A NOTE FROM CHRISTINA:
This morning I am in Redondo Beach, California with my 18 Accelerators ... participants in my leading-edge business incubator for solo entrepreneurs and small business owners. Today we focus on 'outer work' (building sustainable organizations via pragmatic business models). Tomorrow we focus on 'inner work' (building positive, mature and integrated selves to manifest and successfully lead those businesses). I am in heaven!
Before I left, this painting popped out ... which I am entitling "The Accelerators" in honor of these brave and determined souls that I'm so fortunate to support and coach (and learn from too ... they are amazing people!).
Our special guests, Sheila and Marcus Gillette and THEO are joining us tomorrow morning for a private closed-door session --- where their 'universal intelligence' will explain the SHIFT happening to us collectively and individually. So curious to see what unfolds ... who asks what, what THEO says, how this info impacts us over our 9 months (the births that will happen as a result!). Excited, excited, excited!
On Twitter last week I was asked about my favorite book recommendations. Erin Kreeger from Ontario, Canada was asking for my favs in the graphic facilitation and visual thinking genre. Inspired by her question I've decided to expand the genre to my overall 'Acceleration Reading Picks' ... so this issue's article is on the Top 10 books that have influenced me in my biz and life SHIFT. We all have pivotal ideas, thoughts and inspirations that have lit us up ... think back and consider, what are your Top 10?
Hope you enjoy,

Christina Merkley,
The SHIFT-IT Coach
and Interactive-Graphics Mentor
THANK GOD I DIDNíT WAIT ANY LONGER!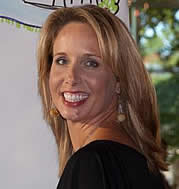 Allison Crow
Graphic Facilitator
& Coach
(and Accelerator participant!)
"Christina's top-notch mentoring gave me the missing link to turn what I was doing as a hobby into an actual business. She sharpened my current skills, gave me structure and functionality (was missing as a more right-brained person) - and addressed new skills that I didn't even know I needed!
Fundamentals of Interactive-Graphics was an investment in myself, not a cost – I trusted it would pay off and it did ... recognized by our company President who gave me visibility on an international corporate level, saying "I'm going to honor you for having invested in yourself". Within a month I launched Crow-Hill Conversations and had my first professional gig – a 3-day graphic recording for 150 ... and my practice is quickly growing. I thought about taking this training for a year - Thank God I didn't wait any longer!"
Allison Crow, Austin, Texas
http://www.crowhillconversations.com
CHRISTINA'S CURRICULUM: UPCOMING EVENTS

SHIFT-IT CENTRAL®
Mondays, 5pm Pacific (drop-in coaching ... join today!)
Join the growing SHIFT-IT Community! Christina's private coaching schedule is full with Accelerator and VIP clients, however she's accessible for others who want to make their SHIFTs too. This weekly tele-program offers affordable drop-in coaching and mentoring in an open, community atmosphere. Receive direct SHIFT-IT coaching with Christina and/or listen in on others. Bust through your resistance, release your blocks, enhance your vibration, receive warm-hearted community support. For new and seasoned SHIFTers alike. Join Us Here


SHIFT-IT ONLINE GROUP®
7-week Webinar Course: Saturdays, Jan. 15-Feb. 26, 2011
Christina's foundational course --- that grounds you in the philosophy of SHIFT-IT! Join like-minded people from around the globe in this leading-edge transformational experience. Heal your past, process your present and create your best-case scenario future. Learn fundamental Law of Attraction principles to shift your professional and/or personal life ... now and for years to come. All in her pioneering 'graphic coaching' style - using the power of visual tools to Become Your Next Self. Offered Only Twice a Year. Full Details and Online Registration


SHIFT-IT COACH CERTIFICATION®
Online: April 5 – June 7, 2011, plus Client Hours

Calling progressive coaches, therapists and other helping professionals! Easily and expertly learn how to work visually with your own coaching and therapy clients using Christina's proven, highly effective SHIFT-IT Graphic Coaching Process® and suite of 17 visual maps. This leading-edge professional skills training provides expert instruction, polished materials AND marketing support to rapidly enhance your new or existing practice – plus membership in a growing global community of practitioners committed to individual and societal change. Apply now, next global cohort forming.
Details and Online Application
***Investment Increases on Jan. 7th!
The FUNDAMENTALS OF INTERACTIVE-GRAPHICS®
May 19-21, 2011, Victoria, British Columbia, Canada

Learn "Interactive-Graphics" to enhance your consulting, facilitation, training or coaching work with groups or individuals. Hands-on, direct mentoring with recognized female teacher in this lucrative niche. This professional skills training equips you with the base skills to do Custom Chart Work, Graphic Recording, Graphic Facilitation and Graphic Coaching --- the four main applications of working visually to reduce conflict, misunderstandings and confusion and to enhance strategic thinking, decision-making and performance. FYI: all artistic levels welcome, you DO NOT need to be an artist to effectively employ this client-pleasing method.
Full Details and Online Registration
***Early Bird & Easy Pay Plans!


FEATURED ARTICLE:
MY TOP 10 ACCELERATION BOOK PICKS
(Now Recorded!) To Listen to My Audio of This Article, Click Here
On Twitter last week I was asked about my favorite book recommendations. Erin Kreeger from Ontario, Canada was asking for my favs in the graphic facilitation and visual thinking genre. Inspired by her question I've decided to expand the genre to my overall 'Acceleration Reading Picks' ... the Top 10 books that have influenced me in my biz and life SHIFT. We all have pivotal ideas, thoughts and inspirations that have lit us up ... think back and consider, what are your Top 10 reads? Here are mine ... somewhat in chronological order (and hey, its hard to keep it to 10 so I snuck in a few more!).
Book 10: Revolution from Within
Gloria Steinem

I start my list with the first hard cover book I ever bought --- back when thirty bucks seemed a fortune to pay for a book (I was an admin assistant in a political office in the early 90s). Little did I know then just how pivotal this book and its message of true self empowerment (for women and men) would be for me --- the start of a long journey --- taking me across countries, schooling and several professions.
Book 9: Reenchantment of the World
Morris Berman

My favorite book from grad school days – gave me a useful and inspiring counter to the Cartesian/scientific worldview that I was brought up with. Yes, science is useful and fabulous ... but there is a whole lot more that we also need to consider if our world is to be a humane place in which to live for us and for generations to come.
Book 8: Job Shift & Visual Meetings
William Bridges and David Sibbet

Bill Bridges gave me the'what' (how to prosper in a world without jobs).
David Sibbet gave me the 'how' (by becoming a visual practitioner ... first within his company, The Grove Consultants International, then later from my own company).
Book 7: Feel the Fear & Do It Anyways

Susan Jeffers
After completing my thesis (using David Sibbet's Strategic Visioning Process as my action research project with a trio of Canadian entrepreneurs) ... this book got me through the post-graduation fear of 'now what' to my globe trotting life as a traveling Graphic Recorder.
Book 6: Living With Joy & Creating Money
Sanaya Roman

I owe my introduction to Sanaya Roman and her guide Orin to Julie Halsey my post-grad roommate. These books were my introduction to 'You Create Your Own Reality'. Also, beginning of my research into energy and light body awareness.
Book 5: Co-Active Coaching
Laura Whitworth et al

Today I am a successful coach with a pioneering niche: graphic coaching. As a teacher of teachers ... I attract new and experienced coaches. For the newbies this is my number one recommendation for exploring the coaching field to see whether it might be a fit. The authors are the founders of The Coaches Training Institute - which I attended in 2000.
Book 4: Ask and It Is Given
Jerry and Esther Hicks and Abraham

I am a huge, huge fan of the universal intelligence that Esther Hicks 'translates' for, whom she has affectionately refers to as "Abraham". Known as "Law of Attraction", "Deliberate Creation" and "The Art of Allowing" this work has had a profound impact on me and my life --- accelerating me to new levels of expression, creation and manifestation. I am so thankful for their role in my life and in the lives of those I have the pleasure of coaching and mentoring.
Book 3: The e-Myth Revisited

Michael Gerber
An inspiring business classic. How to shift from your business running you to you running your business. The shift from being a 'technician' to a true business owner/leader. Currently in the process of manifesting this one as I continue to build my team and proper systems at SHIFT-IT Coach, Inc.).
Book 2: Soul Truth
Sheila and Marcus Gillette and THEO

Business is a wonderful opportunity to 'see your stuff' and hopefully do something about it. I adore THEO's personal guidance (have had many private sessions with them) and use their "Soul Integration Process" when I'm triggered and coming from a knee-jerk, reactive place. Puts my Inner Businesswoman and Capable Adult back in charge.
Book 1: The SHIFT-IT Home Retreat Kit
Christina Merkley

And, my final pick for my list of acceleration resources: my own SHIFT-IT Home Retreat Kit. I've been obsessed with the business of SHIFTing work and life (my own and my clients) for well over 20 years now. This do-it-from-the-comfort-of-your-own-home Kit guides you step-by-step through my SHIFT-IT System® ... using my custom graphic coaching maps. Draw out who you have been, who you are ... and what you next want. Successfully align and take action to Become Your Next Self.
Blog Comments: Thoughts? Reactions? Have something to add? Click here to leave comments and read those left by others.
Audio MP3s of Past Articles: Click Here
©2010 Christina L. Merkley
WANT TO USE THIS ARTICLE IN YOUR E-ZINE OR WEB SITE?
You can, as long as you include this blurb and a functional link to my site:
Christina Merkley, "The SHIFT-IT Coach" and creator of the SHIFT-IT System®, is a Visioning and Strategic Planning Expert specializing in Visual Thinking and Law of Attraction techniques. Based in charming Victoria, British Columbia, Canada, she works deeply with individuals, partners and conscious businesses to define and manifest what they truly want. And, trains other helping professionals in her innovative ways of working. For more information visit: www.shift-it-coach.com


GET COACHED BY CHRISTINA
Ready for your SHIFT? There is a HUGE TRANSITION going on in the world today both at a spiritual and physical level. Many people are feeling the call to ascend to a crisper, cleaner and more soul satisfying life - are you one of them? Enlist me as your personal transition aid. Define your vision, bust through your interfering resistance and start taking action. Pioneering Graphic Coaching and Law of Attraction methods.
LEARN GRAPHIC FACILITATION & GRAPHIC COACHING SKILLS:
Are you a helping professional with a creative bend? Are you intrigued with the visual way I work with my clients? I've trained hundreds of facilitators, consultants, trainers and now coaches, counselors, social workers, etc from around the globe. Learn fundamental graphics skills that you can use in your own work with groups and individuals. Come join the graphic tribe!
ABOUT CHRISTINA MERKLEY:
Christina Merkley
The SHIFT-IT Coach &
Interactive-Graphics Mentor

Christina Merkley is The SHIFT-IT Coach. Creator of the SHIFT-IT System®, she guides individuals, partners and conscious companies in defining and getting what they really, really want.

A teacher of Law of Attraction, she is also an expert in visual meeting techniques, strategic planning and visioning: having worked for such notable companies as BBC, Readers Digest Funds, eBay and Stanford University. After a move from San Francisco, she now lives in charming Victoria, British Columbia, Canada - where she maintains a vibrant coaching, facilitation and training practice.
IN THIS ISSUE:
>>Featured Article: My Top 10 Acceration Book Picks
FEATURED COURSE:
SHIFT-IT Central®
Weekly Drop-in Coaching
FEATURED PRODUCT:
The SHIFT-IT Home Retreat Kit®
CONNECT WITH CHRISTINA:
Via Twitter, Facebook & Youtube
BLOG ENTRIES:
Looking for more rich, SHIFT-IT content? Check out my blog for recent ramblings, resources and general interest features:
The Hero & Queen Archetype and Law of Attraction
Mentees, Expansion and Wouldn't it Be Nice
Go As Specific as It Still Feels Good
Tips to Accelerate Your Biz and Life, Now!
The 4 Methods of Interactive-Graphics Work
Create Your Personal Vision with 6 Tips & Visual Map
Click here to read the SHIFT-IT Coach blog.

EZINE ARCHIVES:
Browse past issues here.
Listen to the ezine here.