A NOTE FROM CHRISTINA:
We're continuing along with a busy winter season here at SHIFT-IT Coach, Inc. Having lots of fun with the SHIFT-IT Online Group as we navigate our way through the 17 maps of my SHIFT-IT System®. We are on the 'Focus On the Future' stage of the process ... where participants create their "Magnetism Maps" (visual tool for defining your personal vision and specific goals) and begin to define and flip their resistance (negative or interfering beliefs) that stand in the way of them having what it is they say they want.
Below is a picture of my good friend, Mariann ... with her wall-size Magnetism Map (after an in-person visioning and alignment session). And other one of my new assistant Chris, as he rolls up some 'FLIP-IT' work we did on some internal issues we were encountering in the business last week. Getting this stuff out onto paper (whether small or large) really goes a long way towards making desires and resistance conscious and SHIFTing IT to a better place!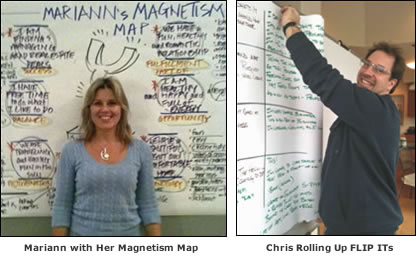 I'm also continuing research and writing of my 'Orphan Rescue' product that I mentioned last week. A visual way to identify and work with old issues that are interfering in your adult, present now. This week's article is a quick tips sheet on Orphan Rescue ... try it yourself or drop-in for assistance during SHIFT-IT Central® on Mondays nights.
Hope you enjoy,

Christina Merkley,
The SHIFT-IT Coach

WENT FROM KNOWING NOTHING --- TO CONFIDENCE IN PRODUCING VERY WELL RECEIVED MEETING MURALS

Patricia Hitch
Senior Organizational
Development Consultant,
PEMCO Seattle, WA

"My boss and I traveled to Canada for Interactive-Graphics instruction with the generous Christina Merkley – to investigate the craft of Graphic Recording and Graphic Facilitation. I went from knowing nothing ... to confidence in producing meeting murals that were very well received in our busy organization.

I incorporated my new skills immediately into my organizational development work – creating visuals for our Manager's Forum, a communications roll-out and departmental visioning sessions. I drafted a character – "The PEMCO Guy" which made it fun. And people loved it! Our visual "PEMCO Story" created a 'buzz' with people dialoging, strategizing, and focusing on accomplishments (was an interactive-tool rather than just painted picture in the room). Was fascinating to be party to a whole new communication method with positive energy and results. Interactive-Graphics is delightful, gets the job done, is effective, and entertaining ... all at the same time! I'm with Christina when she says that 'everyone can do this'."
Patricia Hitch
Senior Organizational Development Consultant
PEMCO Mutual Insurance Company
Seattle, Washington
CHRISTINA'S CURRICULUM: UPCOMING EVENTS

SHIFT-IT CENTRAL®
Mondays, 5pm Pacific (drop-in coaching ... join the community today!)
Join the growing SHIFT-IT Community! Christina's private coaching schedule is full with Accelerator and VIP clients, however she's accessible for others who want to make their SHIFTs too. This weekly tele-program offers affordable drop-in coaching and mentoring in an open, community atmosphere. Receive direct SHIFT-IT coaching with Christina and/or listen in on others. Bust through your resistance, release your blocks, enhance your vibration, receive warm-hearted community support. For new and seasoned SHIFTers alike. Join Us Here
Living the Law of Attraction
12-week Webinar Course: Sundays, Feb. 27 – May 22, 2011
Have you done my SHIFT-IT System®? Ready for a more in-depth explanation of Law of Attraction and practical ways to properly align yourself to this universal law? This 12-week online program gives you the next, deeper level of how to create what you want – easily and enjoyably! Step-by-step, I guide you through the inner work tools and processes I have personally used to create my own creative-based lifestyle doing what I totally love. Learn a new way of being that will successfully serve you for the rest of your life experience. Attracts like-minded and hearted people from across the globe. Repeater option for folks who have completed course before and want to join the fun again! Full Details and Online Registration
The FUNDAMENTALS OF INTERACTIVE-GRAPHICS®
May 19-21, 2011, Victoria, British Columbia, Canada
Learn "Interactive-Graphics" to enhance your consulting, facilitation, training or coaching work with groups or individuals. Hands-on, direct mentoring with recognized female teacher in this lucrative niche. This professional skills training equips you with the base skills to do Custom Chart Work, Graphic Recording, Graphic Facilitation and Graphic Coaching --- the four main applications of working visually to reduce conflict, misunderstandings and confusion and to enhance strategic thinking, decision-making and performance. FYI: all artistic levels welcome, you DO NOT need to be an artist to effectively employ this client-pleasing method.
Full Details and Online Registration ***Early Bird on Now, Just 9 Spots Left!
FEATURED ARTICLE:
ORPHAN RESCUE MAP & INSTRUCTIONS (PART ONE)
(Now Recorded!) To Listen to My Audio of This Article, Click Here
| | |
| --- | --- |
| Do you ever get overly emotionally triggered by things in your life? Do you seem to react more than is necessary? Is old baggage preventing you from creating what you really want in your life now? If so, my latest visual map, called "Orphan Rescue", is an integration tool that unlocks the mystery as to why you react the way you do and how to SHIFT-IT --- so you can create the life that you really want. | |
In my last issue, I wrote about the natural developmental delays that coaching clients can sometimes encounter, that can cause problems in their being able to create what they want in life. The developmental delays can occur in the areas of attachment, identity, competence, confidence, connection and the like - causing clients to have problems in manifesting their relationships, careers/businesses, abundance, fitness/body etc.
| | |
| --- | --- |
| | My SHIFT-IT System® naturally addresses many of these blocks and delays. However I am always on the lookout for new methods to assist my clients (and myself!) so we can manifest what we really want. For years, I've been doing different kinds of inner rescue work (in addition to being a coach, I'm a trained Alchemical Hypnotherapist). So creating a visual tool to more effectively assist in this inner work is just a natural extension of my practice. |
Terms of Use:
This work is still in preliminary draft stage (yes, there are discrepancies between the map and the directions) however I have found that releasing early drafts of my tools to my e-zine and social media audience helps all of us. It helps you with inner work, and it helps me by getting your feedback and comments. So, in the spirit of new product development, here is a Version 1.0 prototype to play with. Please respect my copyright on this material. It is for your personal use only. If you are a coach, therapist or other helping professional, you may not use these materials with your own clientele. For proper training and certification in my visual way of working, please see Graphic Coach Certification.
Purpose & Benefits of Orphan Rescue:
To Use When You Are Overly Emotionally Activated By Something That Happens;
To Identify Which 'Orphan' (Younger Part Of Self) Is Involved;
To Soothe And Self-Parent This Younger Version Of You;
To Integrate This Orphan Into Your Adult Life With Proper
Supervision And Support;
To Provide Relief And Tone Down Or Eliminate Activation In Future.
Download Map Here (pdf): Print and Follow Directions Below Draft Version 1.0 of Orphan Rescue Map (renamed from Soul Integration)
Overview of Exercise:
The Orphan Rescue exercise is an additional 'SHIFT-IT' exercise ... that fits into the Trouble at the Border stage of the SHIFT-IT Graphic Coaching Process®. It is to be used when you notice yourself becoming 'overly activated' about something in your life, which is a sign that something beyond just your current situation is going on. This 'something' usually has to do with an earlier episode, incident or situation in your life. Usually something of a negative or upsetting dynamic (or trauma) that has a similar feel to what has just happened in your life (in Law of Attraction speak ... something of a similar frequency or vibration).
This map (and its accompanying directions) assists you to identify this earlier dynamic in your life and to finally SHIFT-IT (to get relief in your present life). The earlier dynamic is usually connected to a memory that a younger part of you holds. This younger part of you is called an "orphan". This younger part of you has inadvertently been abandoned (by you or others in your life) and needs to be rescued --- so it is no longer activated by things that occur in your adult life. This is a 'soul integration' or 'soul retrieval' process --- that enables you to reclaim your power and put your functional, adult self in charge of your life.
Before You Begin:
Create a quiet space for yourself where you aren't likely to be disturbed. Set aside at least 20 minutes to complete.
Overview of Steps:
Notice A Current Situation That Has Emotionally Activated You.
Define What The Best Thing(S) About Being Your Current Age Is.
Go Within And Ask 'Who Inside Is Uncomfortable?'.
Identify The Age And Circumstances Of Your Orphan.
Freeze Frame The Scene And Nurture Your Orphan.
Ask What Else They Are Upset Or Confused About And Soothe.
Explain Current Life And Invite Orphan To Join.
Collapse Time And Bring Them Forward.
Set Appropriate Roles And Expectations.
Check For Relief.

1. Notice Current Situation That Has Emotionally Activated You.
We do Orphan Rescue work when we notice that something in our current life really bothers us --- i.e. when we are 'emotionally activated' by something, perhaps having a reaction that is above and beyond what would be natural or normal for the situation.
Pay attention to the things that spike you emotionally (in a negative way). Make a note of them and when you are able, sit down and complete an Orphan Rescue map to create a 'shift'.

2. Define Best Thing(s) About Being Your Current Age.
Orphan Rescue is about identifying and integrating a younger, more immature part of yourself. In order to do that successfully, we must get you identified first with your present-day, adult self. To help evoke and anchor this energy, ask yourself this question and list your answers.
*** What is the best thing about being your current age? ****
Example:
Being able to do what I want.
My wisdom and experience.
Being the master of my own destiny.
Etc...
Chances are the answers that you have personally come up with, will in some way, perfectly address and counter the energies of your orphan. So it is important to evoke your adult self before going in to encounter which particular orphan has been stirred up.
3. Go Within And Ask 'Who Inside Is Uncomfortable?'.
Take a few moments to center and calm yourself by taking a few deep breaths. Then, in your mind's eye, summon up the present situation that has been emotionally activated. For example, perhaps you overly reacted to something you heard on television or uttered by a friend, colleague or family member. Or, you suffered an uncomfortable interaction of some sort. Or a rejection, judgment or some such thing. Bring the memory of this recent incident to your mind.
When you have the incident in your mind, notice your body reactions to this incident. Where in your body did your reaction happen? In your chest? In your hands? In your stomach? In your shoulders or back? You will have had some sort of immediate or automatic somatic (body) reaction to the incident. Locate your own unique body interaction to the incident that recently happened to you.
When you have identified the region of your body that had the reaction ... focus your attention on it and ask ... "who inside is uncomfortable?" (thank you and acknowledgments to the soul integration work of friend, colleague and mentor Sheila Gillette via the Teachings of THEO for this insightful question).
Ask this question (you may need to ask it a few times) and wait for a response. Your response may come in the form of a visual flash, a feeling, or a sense. Usually it is connected to an earlier time in your life. Allow any information to come through and accept it (do not censor). Ask yourself 'how old am I'? 'What am I remembering?'. Some scene or memory from your past will reveal itself to you. Just relax and let it come out.
4. Identify Age And Circumstance Of Orphan.
When the memory starts to come into focus, write the specifics of it down. How old were you and what was happening to you at that time? This memory will have the same feel (frequency or vibration) as the current life situation that originally triggered you and brought you to your Orphan Rescue work. If the memory is particularly traumatic, be sure to keep yourself 'out of the memory'; just looking at it and observing it from a safe, high distance. Record what happened and how the younger part of you was impacted. This is the orphan that this particular incident in your current life is connected to. There is unfinished work for you to attend to.
Multi-dimensional Note: occasionally you may ask these questions and encounter something that is not logically yourself but some other aspect of consciousness. You may encounter a group or collective memory (shared by many people), or a memory from a time far beyond your present lifetime (i.e., in some terminology this would be considered a past life). Go with it (do not be afraid or concerned ... sometimes our consciousness works in mysterious ways). Just write down whatever story and explanation comes to mind. It is coming to you for a reason, so trust it and proceed according to the next instructions.
5. Freeze Frame And Nurture Your Orphan.
Next, freeze-frame the scene that your orphan is in. Literally imagine all of the action being frozen and your orphan being left in the middle of it --- kind of blinking their eyes and wondering what happened to make everything around them freeze.
Next, allow your current, adult self to materialize in front of this orphan (like the 'transporter' teleportation device in a Star Trek episode). Your orphan may find this a little unusual (as it's not everyday that your scene freezes around you and your Future Self materializes in front of you!). But gently introduce yourself to your orphan and explain who you are and what you are doing there (i.e." I am your Future Self ... I'm you at the age of ____, and I'm here to help you, you no longer have to suffer through this situation alone").
Proceed to nurturing your orphan. You have interrupted them in the middle of an unpleasant, perhaps even traumatic situation. Bring your adult conscious to this situation, as you would to any little child (or adolescent or adult) in distress. Soothe them. Say comforting things that you know to be true from your adult perspective (to evoke your adult consciousness, go back to your answers about 'what is the best thing about being your current age'). Bring comfort to your little orphan by reassuring, soothing and explaining things to them (in age appropriate language and concepts). If you are a parent in your adult life, treat this orphan as you would one of your own precious little children when they were at the same age as your orphan (or, think of children you know of the same age and act accordingly).
---- To be Continued ... Part Two Coming In Next E-zine Issue
Orphan Rescue Assistance:
Intrigued by Orphan Rescue? Having a tough time doing it on your own. While self-coaching yourself via my maps and instructions is helpful, it sometimes helps to have me personally coach you through your Orphan Rescue work. I have a drop-in coaching community every Monday evening at 5pm pacific called SHIFT-IT Central®, where we often do Orphan Rescue work. Swing on by for some direct assistance from me.
Call for Volunteers:
The material I have shared with you today is the preliminary start of a new self-coaching product. Over the course of the next weeks and months I will refine the map and instructions and add audio examples (of me coaching clients through their Orphan Rescue work) and hopefully a guest audio with Sheila Gillette and THEO on their Soul Integration and energy shift perspective. If you are interested in being a volunteer, requiring an audio recording of your Orphan Rescue session, please contact my assistant Chris Miller at [email protected] to express your interest to be added to my volunteer list.
Blog Comments: Thoughts? Reactions? Have something to add? Click here to leave comments and read those left by others.
For the full SHIFT-IT e-Zine Archives: Click Here
For the full SHIFT-IT Audio Library (mp3): Click Here
©2011 Christina L. Merkley
WANT TO USE THIS ARTICLE IN YOUR E-ZINE OR WEB SITE?
You can, as long as you include this blurb and a functional link to my site:
Christina Merkley, "The SHIFT-IT Coach" and creator of the SHIFT-IT System®, is a Visioning and Strategic Planning Expert specializing in Visual Thinking and Law of Attraction techniques. Based in charming Victoria, British Columbia, Canada, she works deeply with individuals, partners and conscious businesses to define and manifest what they truly want. And, trains other helping professionals in her innovative ways of working. For more information visit: www.shift-it-coach.com


GET COACHED BY CHRISTINA
Ready for your SHIFT? There is a HUGE TRANSITION going on in the world today both at a spiritual and physical level. Many people are feeling the call to ascend to a crisper, cleaner and more soul satisfying life - are you one of them? Enlist me as your personal transition aid. Define your vision, bust through your interfering resistance and start taking action. Pioneering Graphic Coaching and Law of Attraction methods.
LEARN GRAPHIC FACILITATION & GRAPHIC COACHING SKILLS:
Are you a helping professional with a creative bend? Are you intrigued with the visual way I work with my clients? I've trained hundreds of facilitators, consultants, trainers and now coaches, counselors, social workers, etc from around the globe. Learn fundamental graphics skills that you can use in your own work with groups and individuals. Come join the graphic tribe!
ABOUT CHRISTINA MERKLEY:
Christina Merkley
The SHIFT-IT Coach &
Interactive-Graphics Mentor

Christina Merkley is The SHIFT-IT Coach. Creator of the SHIFT-IT System®, she guides individuals, partners and conscious companies in defining and getting what they really, really want.

A teacher of Law of Attraction, she is also an expert in visual meeting techniques, strategic planning and visioning: having worked for such notable companies as BBC, Readers Digest Funds, eBay and Stanford University. After a move from San Francisco, she now lives in charming Victoria, British Columbia, Canada - where she maintains a vibrant coaching, facilitation and training practice.
IN THIS ISSUE:
>>Featured Article: Orphan Rescue Map & Instructions (Part One)
FEATURED COURSE:
SHIFT-IT Central®
Weekly Drop-in Coaching
FEATURED PRODUCT:
The SHIFT-IT Home Retreat Kit®
CONNECT WITH CHRISTINA:
Via Twitter, Facebook & Youtube
BLOG ENTRIES:
Looking for more rich, SHIFT-IT content? Check out my blog for recent ramblings, resources and general interest features:
Orphan Rescue and Resolve Developmental Delays
Envision a Successful 2011 With My Gift of These Four Visual Maps
Build Your Team To Assist Your SHIFT
My Top Ten Acceleration Book Picks
The Hero & Queen Archetype and Law of Attraction
Mentee's, Expansion and Wouldn't it Be Nice
Click here to read the SHIFT-IT Coach blog.

EZINE ARCHIVES:
Browse past issues here.
Listen to the ezine here.