A NOTE FROM CHRISTINA:
Ahhhhhhhh ...that's the sound of a relaxed me after a much needed vacation! Thankfully I have a few more weeks of R&R time, however it won't be the same as being at the lovely Rancho La Puerta in Tecate, Mexico.
How nice to be in real heat (I love hot weather), surrounded by a spectacular high desert environment, with perfect organic food 3 times a day. Not to mention the morning hikes and fitness classes (yeah, I actually did a few) plus personal growth lectures (SHIFT-IT needs to be on their curriculum). Plus the artistic touches were lovely (sculptures and Mexican yarn art and paintings).



Labyrinth Before the Morning Hike


Sculpture Greeting
the Sunrise at Mountain Top

A Chalkboard ...
(had to add some icons!)

Fantastic "Ghost Rock" on Coyote Hike




Mexican Metal Work


Ahhhhhhhhhhh
The only ick moment was during a landscape drawing class. Our instructor was in the middle of demo when 5 feet in front of us a snake entwined with a big ol' rat dropped from the trees. Rat lived. My interest in landscape sketching sadly didn't. Ewww, ewww, double ewwww. That was an interesting Law of Attraction experience (I blame it on Judith Herman's Trauma & Recovery book I was reading ... excellent SHIFT-IT material but might have been a bit too archetypically intense given rodent & serpent fell from skies!).
I'm back on Canadian soil now ... no threat of snakes thank goodness. Stasi and Pat are prepping for our great line up of fall classes. Until then, I'm getting in as many hikes with JJ as I can before classes begin and our west coast weather takes a turn.
Enjoy your remaining days of summer (if you are Northern Hemisphere). See you in our upcoming fall or 2014 classes!
Yours in SHIFTing IT,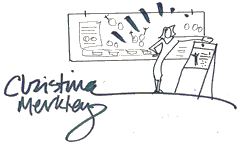 Christina Merkley,
The SHIFT-IT Coach
and Interactive-Visuals Mentor
P.S. For 2013-2014 course schedule, click here.

"PLEASE SHARE WITH CHRISTINA THAT I REALLY APPRECIATE THE VALUABLE TRAINING I RECEIVED ..."
"I registered for Fundamentals of Interactive-Visuals because I do lots of strategic planning and coaching sessions with teams. My colleagues, who have taken this course, use it all the time and it's very impressive when they do. I'm always amazed how much more effective in generating ideas it is when you see what you're discussing.
Karey Covey
Human Resources
City of Lethbridge

Since the course, I have been practicing and created my first Custom Chart from one of our HR directional meetings. My manager loved it. Interestingly, when my boss posted the chart, it generated great questions around the context of our meeting and good dialogue about the messaging. It led to a very engaging and positive 2nd meeting. That was not something any of us anticipated.
It's nice to see my training investment going to good use. I know that when I train others, I like to know that the tools are being put to good use and having value. Please share with Christina that I really appreciate the valuable training I received and look forward to connecting soon.
Karey Covey
Human Resources
City of Lethbridge

SHIFT-IT SCHOOL: UPCOMING COURSES

SHIFT-IT Online
7 Weeks Online: Sept. 14 - Oct. 26, 2013
Video Webinars: Saturdays, 10-11:30 a.m. Pacific
Ready to get what you want?! Only offered twice a year! Our signature coaching group - gets you what you next want in your personal and/or professional life. You develop a crystal clear vision, unravel your resistance ... and rapidly SHIFT your world. Practical real-world strategic planning coupled with leading-edge Law of Attraction wisdom --- all in our innovative 'Visual Coaching' style. Join this supportive community with other like-minded SHIFTers from across the globe, includes The SHIFT-IT Home Retreat Kit® with 17 visual maps.
Forming Now - Starts in 2 Weeks!
Full Details and Online Registration
* Note: Pre-requisite for Visual Coach Certification. FYI, Repeater Option available for those who have taken this program before and want to refresh.
FUNDAMENTALS OF INTERACTIVE-VISUALS (Online)
9 Weeks Online: Oct 21 - Dec 18, 2013.
Video Webinars, Mon & Wed, noon-1pm pacific
Over 87% of your facilitation, coaching, training and consulting clients are visual thinkers - learn powerful visual skills to boost the effectiveness of how you work with them. This professional skills training (fully online) thoroughly covers custom chart work, visual recording, visual facilitation and visual coaching (the four main applications of working visually with groups and individuals) so you can add these powerful tools to your own process toolkit. This is the online version of our popular 3-day fundamentals training (no travel required).
Early Bird Until Sept 23rd:
Full Details and Online Registration
* Note: Pre-requisite for Visual Coach Certification only option of taking online this year (so if you don't want to travel for Certification 2014, be sure to register for this online version of FIV)
* FYI, Repeater Option available for those who have taken this program before and want to refresh.
PRIVATE SKILLS APPRENTICESHIPS & BIZ COACHING
In person in Victoria, BC, Canada and/or Via Video Conference
Keen to integrate the visual way of working into your professional practice? On the fast track to becoming a Visual Facilitator, Coach or Scribe? Christina Merkley has limited availability for visual skills apprenticeships and private business coaching customized to your unique needs. Manifest your new or improved Professional Practice quickly, smoothly and with loads of tailored tips, support and encouragement!
*Book an exploratory Chat with Christina to discuss your goals and determine which package is best for you. Email [email protected] to book.

FEATURED ARTICLE:
HOW SPEAKERS, AUTHORS & TRAINERS USE INTERACTIVE-VISUALS
To Listen Or Download Mp3 Version of This Article, Click Here.
| | |
| --- | --- |
| I was just on vacation in Mexico at a health spa and participated in the obligatory introduction round of new members. We shared our name, geography, something we were passionate about and something we could teach others. My answers were ... Christina, Victoria, British Columbia, Law of Attraction and "I can teach you a visual method to powerfully improve the effectiveness of your professional work with groups or individuals". | |
So in the middle of the high desert I found myself explaining what that was to several intrigued Process Professionals (speakers, lawyers, scientists, therapists, coaches and a few fitness practitioners). The answers I gave them varied, as how one uses Interactive-Visuals depends on the kind of work one does and the types of clients one works with.
Sooooooo, I figured this explanation would be a good focus for this eZine. I'll write a 3-part series explaining how different Process Professionals can benefit from the visual approach. In the first article (this one) I'll explain how Authors, Speakers and Trainers can use the medium. In the second article I'll explain how Consultants and Facilitators most commonly use the visual approach. And the third article (a topic close to my heart) I'll explain how Interactive-Visuals are used effectively in coaching, therapy, counseling and other personal development work.
The Four Main Ways of Working Visually:
In the Interactive-Visuals genre, there are four main ways of using visuals to work with groups and individuals, they are: custom chart work, visual scribing / recording (i.e. graphic recording), visual facilitation (sometimes called graphic facilitation) and visual coaching (sometimes called graphic coaching).
Depending on the nature of your Process Practice you may use one, several, or all of the approaches. I have covered these four applications in another article, so I won't duplicate myself again here. Rather, I'll explain which types of professionals tend to use which applications and why. (if you aren't familiar with the four ways of working, you'll want to read that article first).
Part One:
Speakers, Authors and Trainers:
While these folks may do some sort of process as part of their work with their clients they are mostly 'content experts' ... so are usually delivering their content via various means to different types of audiences.

With content folks, the most obvious application of Interactive-Visuals work is Custom Chart Work (the time-lapse, 'explainer video' genre also falls into this category).
Trainer Using Custom Chart to
Explain Key Definitions
Basically an Interactive-Visuals professional helps you organize your content into one or a series of 'charts' (or a video) that ideally can be used whenever you need to deliver your content. In essence, we help you condense your message into its most potent form to enable you to more effectively get your point across. These charts or videos can be used in in-person situations or in digital environments (webinars, video- conferencing, PowerPoint presentations, etc.) or just in having more interesting handouts.
Some Examples of Custom Charts Used in Training and Sales:
Process Flow Chart:
Wall-size mural for a Copywriting Expert that lays out the marketing model that she teaches her students over a 3-day workshop.


Click For Larger View
---
Sales Chart:
Wall-size mural that Consultant/Trainer uses to explain their full -system work to potential clients.
---
History Map:
A pictorial of the history of Graphic Facilitation / Graphic Recording field ... I created this one for our training handbook and also for use in skills training workshops.
---
Agenda Chart:
Here's an example of a workshop Agenda Chart - great tool to create for workshops that you lead repeatedly (create it once, use it over and over again).
---
Book Collaboration:
Some authors take this a step further by partnering with Interactive-Visual practitioners to illustrate the concepts in their books --- Michael Port's new visual version of Book Yourself Solid with Illustrator / Graphic Recorder Jocelyn Wallace is a good example.
Additionally content experts (or organizations who bring content experts in to deliver information to their employees) can employ the services of a live Visual/Graphic Recorder to take real-time notes of the content as the speaker delivers it. This service is called Graphic Recording (again, see 4 Main Ways of Working Visually article for further details). After the event digital photos of the charts are shared with participants as an effective memory device and unique takeaway.
---
Explainer Videos:
Another wonderful way for content experts to effectively deliver their message is via an illustrated 'explainer video'. Thanks to RSAnimate, this visual genre has taken the world by storm the last few years. Below is a in-depth Webinar recording where I interview Liisa Sorsa and Disa Kauk, two Canadian colleagues who skillfully play in the Explainer Video space (they also nicely explain Custom Chartwork too).
---
As you can see, Interactive-Visuals gives authors, speakers and trainers some wonderful tools in which to more effectively deliver their message to their audience. Next issue, I'll continue with Part 2 of this series ... how Consultants and Facilitators can benefit from the use of Interactive-Visuals.
P.S: Fundamentals of Interactive-Visuals is a GREAT First Step
Intrigued by the visual way of working?! Want to learn how to apply this powerful methodology to your own work with groups and/or individuals? Our Fundamentals of Interactive-Visuals workshop provides a thorough training on the basics for all four genres of the work (Custom Chart Work, Visual Recording, Visual Facilitation and Visual Coaching). Offered online in the Fall and In-Person in Victoria, British Columbia, Canada in the Spring. Private trainings and in-house workshops also available including comprehensive Apprenticeships. For more info contact [email protected]
---
Blog Comments: Thoughts? Reactions? Have something to add? Click here to leave comments and read those left by others.
For the full SHIFT-IT e-Zine Archives: Click Here
For the full SHIFT-IT Audio Library (mp3): Click Here
©2013 Christina L. Merkley
WANT TO USE THIS ARTICLE IN YOUR E-ZINE OR WEB SITE?
You can, as long as you include this blurb and a functional link to my site:
Author's Bio: Christina Merkley, "The SHIFT-IT Coach" and creator of the SHIFT-IT System®, is a Visioning and Strategic Planning Expert specializing in Visual Thinking and Inner Alignment techniques. Based in charming Victoria, British Columbia, Canada, she works deeply with individuals, partners and conscious businesses to define and manifest what they truly want. And, trains other process professionals in her innovative ways of working. For more information visit: www.shift-it-coach.com and www.visualcoaches.com
EXPERIENCE SHIFT-IT COACHING NOW:
In the scheme of things, life is short. It's a shame not to live it in alignment with who you truly are. We have successfully SHIFTed to a life of authenticity, creativity and abundance that is aligned with who we truly are.
Let us assist you in doing the same via private mentorship. We specialize in individuals who need to get their 'special it' into the world (entrepreneurs, biz owners, team leaders, teachers, consultants, facilitators, trainers, coaches, therapists, visual practitioners, etc.).
We coach you to build/enhance your internal or external practice or small business (including identity/brand, biz basics, creation of effective offerings, necessary systems (tech and socio) and marketing & sales). As well as having a satisfying personal life of supportive family, friends and community. Stop splitting your energy - create a congruent life that truly works for you!
ADD "WORKING VISUALLY" TO YOUR OWN PROCESS TOOLKIT:
Are you a process professional with a creative bend? Are you intrigued with the visual way we work with our clients? We've trained hundreds of facilitators, consultants, trainers and now coaches, counselors, social workers, etc from around the globe. Learn fundamental visual skills that you can use in your own work with groups and individuals. Come join the visual tribe!
Christina Merkley
The SHIFT-IT Coach &
Interactive-Visuals Mentor

SHIFT-IT Coach, Inc. is a boutique training and coaching company specializing in visual process work for groups and individuals. Founded by Christina Merkley, pioneering Visual Facilitator and Coach, we work deeply with individuals, partners and conscious businesses to define and manifest what you really want. We also train Process Professionals from across the globe in our innovative ways of working. For more information visit www.shift-it-coach.com and www.visualcoaches.com.
IN THIS ISSUE:
>>Featured Article:
How Speakers, Authors & Trainers Use Interactive-Visuals.
---
CONNECT WITH US:
Via Twitter, Facebook & Youtube
---
BLOG ENTRIES:
Looking for more rich, SHIFT-IT content? Check out my blog for recent ramblings, resources and general interest features:
The Merits of In-Person vs. Virtual
The P Words of Your Professional Practice: Process & Positioning
Inner Work For Those #@!* Days
Give ...Yet Also Know Your Worth
How to Do Fun Visioning Over the Holidays
The Joys and Challenges of Group Dynamics
Click here to read the SHIFT-IT Coach blog.

---
EZINE ARCHIVES:
Browse past issues here.
Listen to the ezine here.


---
FEATURED PRODUCT:
The SHIFT-IT Home Retreat Kit®
---
Our Websites:
---
---