A NOTE FROM CHRISTINA:
Having a great spring, hope you are too!

A big welcome to our new Office Manager Stasi Manser. We were thrilled with the level of local qualified applicants here in Victoria, British Columbia who responded to the position. Stasi charmed us not only with her kind personality but also her strong tech skills married with an appreciation of meta-physics and personal growth. Happy to have you with us Stasi!



Stasi's Soon To Be Office Set-Up
Plus a New Cintiq for Moi!



A Nice Visit From Roswitha Vespers & Holger Scholz from Germany (KommunikationSlotsen)

Additionally I had the pleasure of a visit from Holger Scholz and Roswitha Vespers from Germany.

These folks operate Kommunikation Slotsen ... the consultancy that produces the handy Bikablo icon dictionaries and other visual facilitation aids.
We had a productive time discussing our shared beliefs on the importance of visual work being properly connected to process ... plus thoughts on my possible travel for a future European visual conference. Thanks for including me on your West Coast tour!
Speaking of 'process', that and another equally important P word ... 'positioning' have been on my mind lately as I guide mentees on consciously developing their "IT" (the process work they are or want to be doing more fully in the world). So these thoughts are rolled into this issue's article "The P Words of Your Professional Practice: Process & Positioning".
Yours in SHIFTing IT,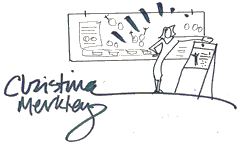 Christina Merkley,
The SHIFT-IT Coach
and Interactive-Visuals Mentor
"A THOUGHT PARTNER TO HELP ME TAKE MY CONSULTANCY TO THE NEXT LEVEL"
Jenny Trautman
Visual Process Consultant


In the past year I've been in two of Christina's courses: Fundamentals of Interactive Visuals and the Magic Marker Mastermind. I'm about to launch into her Biz Basics for Process Professionals and expect that I'll continue to study with Christina in the years to come because it's been an invaluable investment of my time and money.
As a solo practitioner, I was looking for a thought partner to help me take my consultancy to the next level. Three partnerships later, enter Christina. She offered just what I needed through her visual skills training, advanced mastermind and private coaching.
Christina's first class got me started. Her focus on process and exposure to the four ways of working visually helped me learn what I wanted to know and, most importantly, to distinguish myself in the marketplace. I integrate visuals in my facilitation work and provide sketchnoting for live events.
In Magic Marker Mastermind I further refined my style and honed in on the business questions I needed to explore. I see how Christina builds her business as she models the behaviors she teaches and shares valuable insider tips on how to work with visuals more effectively.
Christina has such useful breadth and depth. She's comfortable in the roles of teacher, coach, mentor, and peer. Through her I've learned what it means to live with an abundant mindset as she's graciously shares insights, processes and network. If you're looking to take your business to the next level I highly suggest her curriculum. Christina helps you find your edge in the business world and take your enterprise where you dream it to go.
Jenny Trautman
Atlanta, Georgia
Visual Process Consultant
www.evenview.com
SHIFT-IT SCHOOL: UPCOMING COURSES

The Outer Work Class:
BIZ BASICS FOR PROCESS PROFESSIONALS
For Consultants, Facilitators, Coaches, Content Experts, Scribes, Artists, etc. 10 Webinars, Wednesdays, May 22 –July 24, 2013, noon-1:30 PDT
Developing one's craft is only part of the puzzle in having a successful solopreneur practice or small business --- to understand and successfully implement solid business strategies is another. Previously my 'Outer Work' model to create and maintain (or revamp) a venture in the 50-300K range has only been available to students in our longer-term masterminds. Now this practical and much needed info is offered, for the first time ever, in a condensed online format. Topics include: inspiration, identity & brand, structures & banking, offerings and proper sales funnel creation, sales & marketing (including social media), pricing and effective collection policies, tech and administrative support (team building), bookkeeping & accounting, and partnering and joint ventures. And, the positive mindset and resilience that underscores it all.
New Condensed & Online Format – Register ASAP!
More Info and Registration
FUNDAMENTALS OF INTERACTIVE-VISUALS (in person version) May 30 - June 1, 2013, Victoria, British Columbia, Canada
Over 87% of your facilitation, coaching, training and consulting clients are visual thinkers – learn powerful visual skills to boost the effectiveness of how you work with them. This professional skills training thoroughly covers custom chart work, visual scribing, visual facilitation and visual coaching (the four main applications of working visually with groups and individuals) so you can add these powerful tools to your own consulting, facilitation, coaching and training offerings. In-person version only offered once a year, so act fast to claim your spot.
Just 3 Spots Left, Claim Yours Now!
More Info and Online Registration
* Note: Pre-requisite for Visual Coach Certification and Magic Marker Mastermind.
PRIVATE BIZ COACHING AND VIZ SKILL APPRENTICESHIPS
2013: In person in Victoria, BC, Canada and/or Via Video Conference
Keen to integrate the visual way of working into your consulting, , facilitation, training or content rich business? On the fast track to becoming a Visual Facilitator, Coach or Scribe? Christina Merkley has limited availability in 2013 for private business coaching and visual skills apprenticeships customized for your unique needs. Get the power of a highly skilled and supportive visual pioneer working one-to-one on your success
*Exploratory Chat with Christina to discuss your goals and determine which package best for you. Email [email protected] to book.
FEATURED ARTICLE:
THE P WORDS OF YOUR PROFESSIONAL PRACTICE: PROCESS & POSITIONING
To Listen Or Download Mp3 Version of This Article, Click Here.
| | |
| --- | --- |
| It's a busy and fun May. My Magic Marker Masterminders are coming for a retreat (as you read this, we'll be smack in the middle of Day 1). And the week after that I travel to co-host a 2-day retreat for our THEO Accelerator. Both of these programs, in one way or the other, support participants in defining and aligning with their "IT" ... most often some sort of helping or process professional venture (be it as a coach, therapist, counselor, consultant, facilitator, trainer, visual scribe, empathy/intuitive or other process oriented role). And, given my visual predilections, some are keen to integrate visual tools into how they work too. | |
In supporting these folks to be more fully who they authentically are, I find myself in our group and private sessions emphasizing two powerful P words over and over again: process and position.
Basic Definitions:
Process is what are they actually DOING with their clients ... as in what is the flow, organization or structure of their work with their ideal clients (be they groups or individuals). And position is the highest altitude or BEING that they occupy or assume given the processes they are qualified to lead.
You May Have Several Process Competencies:
Some practitioners may have several processes that they are competent at (i.e. I am skilled in visual recording / scribing processes (taking visual summary notes), facilitation processes (most often strategic planning, team building and conflict resolution/mediation) and am a pioneer in visual coaching processes (our SHIFT-IT System® with its 17 visual maps is an example of a custom or signature process).
Careful Not to Sell Yourself Short:
It becomes important to position oneself around the highest value process that one is equipped to lead, to not market yourself too low down the value chain (even if scarcity thinking might influence you otherwise).

In the example I gave of myself, it wouldn't behoove me to position myself as a visual recorder or scribe (even though I did this work for years and am skilled at it) as this would take away from my higher worth as a consultant, coach, facilitator and educator/mentor. Yes, I may occasionally take on work that is lower in scope than I am capable of, but it would be a mistake to strongly position myself in the marketplace at those more junior levels.
I recommend to my clients that they position themselves at the top of what they are capable of and cascade their offerings down from there (with the more junior stuff listed at the bottom or not at all).
Often people (especially women) position themselves too low down the value chain. My job as their business coach is to get them to value themselves and what they do properly. So they aren't inadvertently shooting themselves in their own foot.
Put In Your Miles (you can't skip steps):

Let me say that I strongly believe that one needs to put in the time to be decent, good and competent at your craft (read Malcolm Gladwell's Outliers).

Often this means mileage, mileage, mileage --- putting in the miles (and hours) to get good at the processes you deliver. Then you can ethically position yourself in the marketplace as you go.
I am a BIG fan of doing what you need to, to develop your chops (especially pro bono or lower fee work when you are starting out or adding a new skill to your repertoire). Then adapting your positioning accordingly. The more you do the better you get ... and you can legitimately position yourself as an answer to your particular client base's problems.
To Use Other's Processes or to Create Your Own:
An issue that often comes up on the developmental path of a Process Professional is what processes to focus on and how to add them to your toolkit. Whether to use someone's else processes or to go through the developmental curve of creating your own --- or both (use others and your own).
| | |
| --- | --- |
| | Given I'm someone who certifies other professionals to use our own signature process, where it's a fit, I fall on the side of using other's processes where you are ethically empowered to. Many professionals and organizations empower others to use their intellectual property through various means. This can be an effective way to quickly and efficiently add a process to your toolkit. To make your segue to being an effective Process Professional a quicker one. And, you can always create your own processes with clear distinctions down the line when you have some more experience under your belt and move into territories where pre-created processes don't exist yet. |
There are many processes on the market that cater to Process Professionals, with various parameters and boundaries attached to them. These, particularly for newer or beginning practitioners, are a great way to get quick understanding and entry into a niche or access to handy tool(s). Here are a few of my favorite examples:
Our SHIFT-IT Visual Coaching System via Visual Coach Certification
The Grove's Strategic Visioning Process
Global Business Network's Scenario Planning
Carol Pearson's Archetypes Methodology
Myers Briggs Typologies
The DISC Assessment
Being Ethical:
I'm preaching to the choir here, as folks who receive my eZine are most likely super ethical people ... however an FYI that it is not cool to rip off other people's processes. Yes, we get influenced by what we read, what we come into contact with and what we experience ... that is natural. However, I belief that its not right to copy, mimic or downright borrow (steal) other people's processes. They went to a lot of hard work, sweat, tears and probably investment to get their processes to where they are. It's crappy to take without proper compensation and agreed upon attribution. Plus, you shoot yourself in that foot via the funky energy that such actions generate --- the Law of Attraction has a way of creating an even score in very fitting ways so be forewarned on the boomerang effect!
Evolve As You Go:
Being a Process Professional is a wonderful adventure ... one that can hold you in good stead for a lifetime career. It's wonderful to have a profession that allows one to follow their interests and to change and adapt one's work as their personage changes too. And to get better and better with seasoning and age. Wishing you all the best in the evolution of your adventures as an effective Process Professional!
P.S. Are you establishing a new Process Practice? Are you a seasoned Process Professional in the midst of revamping your practice to make it authentic to who you are now? If so, check out our upcoming Outer Work Course: Biz Basics for Process Professionals. 10 Weeks Online, Starts Wednesday, May 22nd!
---
Blog Comments: Thoughts? Reactions? Have something to add? Click here to leave comments and read those left by others.
For the full SHIFT-IT e-Zine Archives: Click Here
For the full SHIFT-IT Audio Library (mp3): Click Here
©2013 Christina L. Merkley
WANT TO USE THIS ARTICLE IN YOUR E-ZINE OR WEB SITE?
You can, as long as you include this blurb and a functional link to my site:
Author's Bio: Christina Merkley, "The SHIFT-IT Coach" and creator of the SHIFT-IT System®, is a Visioning and Strategic Planning Expert specializing in Visual Thinking and Law of Attraction techniques. Based in charming Victoria, British Columbia, Canada, she works deeply with individuals, partners and conscious businesses to define and manifest what they truly want. And, trains other process professionals in her innovative ways of working. For more information visit: www.shift-it-coach.com and www.visualcoaches.com
EXPERIENCE SHIFT-IT COACHING NOW:
In the scheme of things, life is short. It's a shame not to live it in alignment with who you truly are. We have successfully SHIFTed to a life of authenticity, creativity and abundance that is aligned with who we truly are.
Let us assist you in doing the same via private mentorship. We specialize in individuals who need to get their 'special it' into the world (entrepreneurs, biz owners, team leaders, teachers, consultants, facilitators, trainers, coaches, therapists, visual practitioners, etc.).
We coach you to build/enhance your internal or external practice or small business (including identity/brand, biz basics, creation of effective offerings, necessary systems (tech and socio) and marketing & sales). As well as having a satisfying personal life of supportive family, friends and community. Stop splitting your energy - create a congruent life that truly works for you!
ADD "WORKING VISUALLY" TO YOUR OWN PROCESS TOOLKIT:
Are you a process professional with a creative bend? Are you intrigued with the visual way we work with our clients? We've trained hundreds of facilitators, consultants, trainers and now coaches, counselors, social workers, etc from around the globe. Learn fundamental visual skills that you can use in your own work with groups and individuals. Come join the visual tribe!
ABOUT SHIFT-IT COACH, INC & CHRISTINA MERKLEY:
Christina Merkley
The SHIFT-IT Coach &
Interactive-Visuals Mentor

SHIFT-IT Coach, Inc. is a boutique training and coaching company specializing in visual process work for groups and individuals. Founded by Christina Merkley, pioneering Visual Facilitator and Coach, we work deeply with individuals, partners and conscious businesses to define and manifest what you really want. We also train Process Professionals from across the globe in our innovative ways of working. For more information visit www.shift-it-coach.com and www.visualcoaches.com.
IN THIS ISSUE:
>>Featured Article:
The P Words of Your Professional Practice: Process & Positioning
---
CONNECT WITH CHRISTINA:
Via Twitter, Facebook & Youtube
---
BLOG ENTRIES:
Looking for more rich, SHIFT-IT content? Check out my blog for recent ramblings, resources and general interest features:
Inner Work For Those #@!* Days
Give ...Yet Also Know Your Worth
How to Do Fun Visioning Over the Holidays
The Joys and Challenges of Group Dynamics
Yes Virginia, There Is A Santa Claus ... You!
Your Seeming Procrastination May Actually Be Right Timing
Click here to read the SHIFT-IT Coach blog.

---
EZINE ARCHIVES:
Browse past issues here.
Listen to the ezine here.


---
FEATURED PRODUCT:
The SHIFT-IT Home Retreat Kit®
---
Christina's Websites:
---
---