A NOTE FROM CHRISTINA:
Our fall is moving along nicely here in the SHIFT-IT Coach, Inc office. We are hunkered down focused on the launch of our fall programs and readying for the winter programs just around the bend.
Our Office Manager, Stasi Manser was gone all last week on an exciting cross-continent trip across to Rhode Island, U.S.A.
She attended The Phoenix Society's World Burn Conference and is still buzzing with all the amazing people she met, things she learned and inspirations she came away with.

Stasi is a burn survivor from a kitchen accident when she was 5. This is the first time she connected with so many fellow thrivers who've shared a similar journey (over 900 attended from across the globe). Here's an inspirational article from one of the survivors of the Providence nightclub fire --- love finds a way! So many SHIFT-IT stories all around us ... you are an inspiration Stasi, keep rocking!
Yours in SHIFTing IT,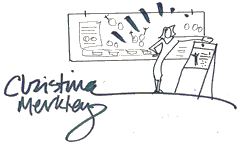 Christina Merkley,
The SHIFT-IT Coach
and Interactive-Visuals Mentor
P.S. VIDEO REPLAY OF INTRO TO INTERACTIVE-VISUALS
Last week we had a special 90-Minute, Info Webinar --- Intro to Interactive-Visuals with over 200 registrants.

No worries if you missed it. Just register here for instant access to the Replay Video.

Thanks for the excellent questions ... 45 minutes of Bonus Q&A included plus my visual presentation notes.

SUCH A POSITIVE EXPERIENCE THAT FAR EXCEEDED MY
EXPECTATIONS ...
Kristin Wiens
Educator & Graphic Recorder

"Taking the Fundamentals of Interactive-Visuals was such a positive experience that FAR exceeded my expectations. The workshop was motivating, inspiring, educational and fun. Christina creates a wonderfully supportive learning environment and guides participants through a carefully crafted curriculum designed to get participants actively using visuals right way.
I left the workshop with new confidence and applied my visual skills at work immediately. Christina very generously shares her knowledge, experience and passion. I can't wait to take another course with her. An added bonus was the wonderful people from all over that I met. I highly recommend this training to anyone considering it. Go for it!"
Kristin Wiens
Curriculum Coordinator
PATH Trainer & Facilitator | Graphic Recorder
Victoria, British Columbia, Canada
SHIFT-IT SCHOOL: UPCOMING COURSES
Fundamentals of Interactive-Visuals (Online Version)
9 Weeks Online: Oct 21 -Dec 18, 2013
Video Webinars: Mondays & Wednesdays, noon-1pm Pacific
Over 87% of your facilitation, coaching, training and consulting clients are visual thinkers - learn powerful visual skills to boost the effectiveness of how you work with them. This professional skills training (fully online) thoroughly covers custom chart work, visual recording, visual facilitation and visual coaching (the four main applications of working visually with groups and individuals) so you can add these powerful tools to your own process toolkit. This is the online version of our popular 3-day fundamentals training (no travel required).
Just 1 Spot Left - We Start on Monday!
Full Details and Online Registration
Note: Pre-requisite for Visual Coach Certification only option of taking online this year (so if you don't want to travel for Certification 2014, be sure to register for this online version of FIV)
FYI, Repeater Option available for those who have taken this program before and want to refresh.
Magic Marker Mastermind
Jan. 16 - June 24, 2014 (includes three 2-day retreats)
Visual Skills & Biz Development Incubator For Process Professionals
Serious about up-leveling your visual skills and career? Learn and bond with unique Process Professionals from across the globe ... who unite in a shared mission to effectively use Interactive-Visuals with groups and individuals. Develop your brand, signature style, visual tools, graphic competencies and overall confidence in your use of productive visual techniques, whether you are internal in an organization or have an independent practice, business or content area.
Limited to 10 Participants
Applications Now Being Accepted
Full Details and Online Application Process
Pre-requisite: Fundamentals of Interactive-Visuals (or equivalent experience)
Visual Coach Certification
April 8 - June 10, 2014, Tuesdays, noon-1:30 pacific, 10 webinars
For coaches, therapists and other Process Professionals who work with individuals, couples or personal growth groups. This one-of-a-kind experience teaches you how to work visually with your clients and licenses you in our SHIFT-IT System® (17 visual maps as complete process or piecemeal). Join our amazing international cohort of Certified Visual Coaches® and add the power of Visual Coaching to your own practice.
Applications Now Being Accepted for Cohort 2014
More Info and Online Application Process
Two Pre-requisites: SHIFT-IT Online and Fundamentals of Interactive-Visuals (or equivalent experience).
PRIVATE APPRENTICESHIPS & BIZ/LIFE COACHING
Online and In-person Options
Want to successfully integrate the visual way of working into your own Professional Practice? Ready to SHIFT your work and/or life for the better? Christina Merkley has limited availability for private visual skills apprenticeships and biz/life coaching customized to your unique situation. Excellent if you desire a fast SHIFT or prefer customized, premium attention.
Exploratory Chat with Christina to discuss your goals and determine which package best for you. Email [email protected] to book.
FEATURED ARTICLE:
HOW COACHES, THERAPISTS AND OTHER HELPING PROFESSIONALS USE INTERACTIVE-VISUALS
To Listen Or Download Mp3 Version of This Article, Click Here.
Note: This article is the third in a 3-part series. The first article explained how Authors, Speakers and Trainers can use Interactive-Visuals to better their work. The second article explained how Organizational Leaders, Consultants and Facilitators most commonly use the visual approach. And this final article, explains how Interactive-Visuals are used effectively in coaching, therapy, counseling and other personal development work (a topic close to my heart).
Before We Begin: Some Background Info ...
In my Interactive-Visuals work, there are four main ways of using visuals to work with groups and individuals, they are:
| | |
| --- | --- |
| custom chart work, visual scribing / recording (i.e. graphic recording), visual facilitation (sometimes called graphic facilitation) and visual coaching (sometimes called graphic coaching). | |
Depending on the nature of your Process Practice you may use one, several, or all of the approaches. I have covered these four applications in another article (and here's a 90-Minute Info Webinar where I thoroughly cover them) so I won't duplicate myself again here. Rather, in this new series of articles, I'll explain which types of professionals tend to use which applications and why. (if you aren't familiar with the four ways of working, you'll want to read that article or watch the webinar first).
Part Three:
COACHES, THERAPISTS and OTHER HELPING PROFESSIONALS:
Interactive-Visuals can effectively be applied wherever there is some sort of process going on with a client (be they groups or individuals) - given it's the kind of process that lends itself to being visible (i.e. drawn out and seen --- either by the client themselves or possibly others if they care for their info to be shared).
Coaches, therapists and other Helping Professionals have many different types of processes - used with individuals (and occasionally they may pool those individuals into groups).
Large Range of Processes and Focus Areas:

Just like consultants, facilitators, trainers and authors --- coaches, therapists and other helping professionals can vary on the types of process and topics that they focus on with their clients. There are MANY different types of coaches (life coaches, executive coaches, entrepreneurial/start up coaches, writing coaches, financial coaches, weight/body coaches, etc), just as they are MANY different types of therapists and counselors (family therapists, couples therapists, eating disorders, family-of-origin, co-dependency/power, recovery/addictions, cognitive, transpersonal etc.). And there are MANY other different types of professionals who work with individuals in a myriad of ways (financial planners, accountants, nutritionists, disability advocates, spiritual counselors, tarot readers, numerologists, astrologists, etc).
And most, if not all, of these various process workers can benefit from integrating visual technology into their professional toolkit.
Studio / Info Pieces:
Just like their counterparts who do group work in corporations, not-for-profits, and government arenas - coaches, therapists and the other types of counselors can find it beneficial to create visual artifacts (handouts, postcards, posters, murals, explainer videos, etc) to help communicate key concepts to their clients.
For example, in my own coaching practice, I have a signature process (called The SHIFT-IT Visual Coaching Process). I've developed a visual model that allows me to explain this process easily to my clients. I also have some large displays that explain my journey with Visual Coaching. And I have created a Visual Bio that explains my background overall (which I use on my sites and in my workshops).
I also have developed some visual postcards that I use (especially in social media) to highlight certain key concepts, phrases and philosophical points about the way I work.
Private Visual Notes:
Not all visuals that you might use as a coach or therapist need to be shared or to be particularly 'pretty' - some can just be for your own private use. Many of us, in the course of our work, take notes on our client sessions to remind us of key milestones, events, thoughts, etc. Learning how to work visually allows us to take more interesting notes for ourselves and to better highlight the things our clients say.
| | |
| --- | --- |
| | Rough, Private Notes |
Public Visual Notes (large size or small size):
In process work with individuals, sometimes it's appropriate to create summaries of what clients are saying --- to just follow along behind them as they are speaking and record what they are saying. This kind of work is technically called 'visual or graphic recording' (again, see the 4 Main Ways of Working article).
| | |
| --- | --- |
| For example, in coaching and therapy work, clients often share stories. Instead of interrupting them and facilitating their process, we follow along beside and visually record what they are saying (synthesizing the exact words they are saying into sound bites and drawing appropriate, accompanying imagery). | |
These visual recordings can be created via large wall-size displays (like you see in this video). Or, increasingly, they are created on smaller sheets of paper or via digital tablet. This provides a visual record of the client's story, for them and those they care to share it with.
Note: in the video I am performing 'graphic recording' using an audio of the story of my visual career.
Co-Built, Interactive Process Work (large size or small size):

While all of the visual methods I have already listed are powerful, it's my opinion that "co-built" displays are THE most powerful way to engage clients ... this way of working puts the 'interactive' in Interactive-Visuals. This is visual work with individuals at its finest.
The catch-all term I use for this is "Visual Coaching" (again, see the 4 Main Ways of Working Visually article). Although this could be called Visual Therapy, Visual Counseling, Visual Financial Planning, etc. depending on the nature of process work you are doing and your role/title.
Unlike the Visual Recording mentioned before, in Visual Coaching you DO more strongly facilitate, lead and guide the process - not merely following along. You create a process container to hold your client in and the visual display mirrors that container back to your client, helping them literally SEE what they mean, think and feel in powerful ways.
Templates / Signature Systems:
I couldn't write an article about the role of visuals in coaching, therapy and other process work with individuals, without mentioning the potential for the development of custom templates and signature systems.
The creation of visual templates is a natural for Process Workers who have favorite exercises or experiences that they tend to do with many of their clients. Sometimes, like in the case of my SHIFT-IT System® these exercises may combine to form an integrated, overall process - a signature system. A wonderful way to brand your unique intellectual property.
| | |
| --- | --- |
| A Small Size Template | A Large Wall Size Template |
Note: After years of just using my SHIFT-IT System® within my own practice, I now license other Process Professionals in my 17 visual coaching maps via Visual Coach Certification®.
Summary Reports:
Finally, another beauty of working in the visual way with coaching and therapy clients is the lovely takeaway materials you can offer. All of the various methods I have explained lend themselves so nicely to creating special summaries, booklets and reports for your clients. These materials can be basic and functional (i.e. emailed pdfs) or they can be much more elaborate (i.e. bound, full color coffee table books). It just depends on the type of offering you wish to provide.
Closing of Series:
In closing, I hope you have found this article (and the fuller series) interesting, educational and inspiring. As I have hoped to show you, the world of Interactive-Visuals for the Process Professional is varied, rich and deeply rewarding. I wish you all the best in integrating visuals effectively into your own practice.
P.S: Fundamentals of Interactive-Visuals is a GREAT First Step
Intrigued by the visual way of working?! Want to learn how to apply this powerful methodology to your own work with groups and/or individuals? Our Fundamentals of Interactive-Visuals workshop provides a thorough training on the basics for all four genres of the work (Custom Chart Work, Visual Recording, Visual Facilitation and Visual Coaching). Offered online in the Fall and In-Person in Victoria, British Columbia, Canada in the Spring. Private Trainings and In-House Workshops are also available.
P.P.S: Advanced Offerings:
Not a beginner - i.e. already have taken Fundamentals of Interactive-Visuals (or have equivalent experience)? If so, see our advanced programs: Magic Marker Mastermind, Visual Coach Certification and Private Apprenticeships.
---
Blog Comments: Thoughts? Reactions? Have something to add? Click here to leave comments and read those left by others.
For the full SHIFT-IT e-Zine Archives: Click Here
For the full SHIFT-IT Audio Library (mp3): Click Here
©2013 Christina L. Merkley
WANT TO USE THIS ARTICLE IN YOUR E-ZINE OR WEB SITE?
You can, as long as you include this blurb and a functional link to my site:
Author's Bio: Christina Merkley, "The SHIFT-IT Coach" and creator of the SHIFT-IT System®, is a Visioning and Strategic Planning Expert specializing in Visual Thinking and Inner Alignment techniques. Based in charming Victoria, British Columbia, Canada, she works deeply with individuals, partners and conscious businesses to define and manifest what they truly want. And, trains other process professionals in her innovative ways of working. For more information visit: www.shift-it-coach.com and www.visualcoaches.com
EXPERIENCE SHIFT-IT COACHING NOW:
In the scheme of things, life is short. It's a shame not to live it in alignment with who you truly are. We have successfully SHIFTed to a life of authenticity, creativity and abundance that is aligned with who we truly are.
Let us assist you in doing the same via private mentorship. We specialize in individuals who need to get their 'special it' into the world (entrepreneurs, biz owners, team leaders, teachers, consultants, facilitators, trainers, coaches, therapists, visual practitioners, etc.).
We coach you to build/enhance your internal or external practice or small business (including identity/brand, biz basics, creation of effective offerings, necessary systems (tech and socio) and marketing & sales). As well as having a satisfying personal life of supportive family, friends and community. Stop splitting your energy - create a congruent life that truly works for you!
ADD "WORKING VISUALLY" TO YOUR OWN PROCESS TOOLKIT:
Are you a process professional with a creative bend? Are you intrigued with the visual way we work with our clients? We've trained hundreds of facilitators, consultants, trainers and now coaches, counselors, social workers, etc from around the globe. Learn fundamental visual skills that you can use in your own work with groups and individuals. Come join the visual tribe!
Christina Merkley
The SHIFT-IT Coach &
Interactive-Visuals Mentor

SHIFT-IT Coach, Inc. is a boutique training and coaching company specializing in visual process work for groups and individuals. Founded by Christina Merkley, pioneering Visual Facilitator and Coach, we work deeply with individuals, partners and conscious businesses to define and manifest what you really want. We also train Process Professionals from across the globe in our innovative ways of working. For more information visit www.shift-it-coach.com and www.visualcoaches.com.
IN THIS ISSUE:
>>Featured Article:
Coaches, Therapists and Other Helping Professionals
---
CONNECT WITH US:
---
BLOG ENTRIES:
Looking for more rich, SHIFT-IT content? Check out my blog for recent ramblings, resources and general interest features:
How Organizational Leaders, Consultants and Facilitators Can Use Interactive-Visuals
How Content & Process Professionals Can Use Interactive-Visuals
The Merits of In-Person vs. Virtual
The P Words of Your Professional Practice: Process & Positioning
Inner Work For Those #@!* Days
Click here to read the SHIFT-IT Coach blog.

---
EZINE ARCHIVES:
Browse past issues here.
Listen to the ezine here.


---
FEATURED PRODUCT:
The SHIFT-IT Home Retreat Kit®
---
Our Websites:
---
---