A NOTE FROM CHRISTINA: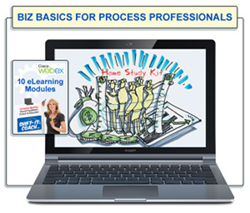 I'm thrilled to report that we had a spectacular launch to the new Biz Basics for Process Professionals (Home Study Kit). Feels SO GOOD to get this practical info rolled into a handy 24/7 available product and into the hands of the up and coming consultants, facilitators, trainers, coaches, counselors, energy workers, etc who need it. And for the more seasoned folks who have been in biz for a while but need to revamp their brand and offerings.
Coupon Code Until August 5th:
If you missed acting on our Special Launch Offer, here's one last opportunity to snag this info-loaded Kit for your development library. I felt bad for the folks writing in saying they were on vacation when the launch happened. So use this coupon code to save two hundred (on the Deluxe Version 1-Pay Option only, until August 5th). Biz Basics Home Study Kit Deluxe Version (coupon code: STORK1)
Biz Basics Home Study Kit Deluxe Version (coupon code: STORK1)
Talking about vacation, I leave on Monday for two weeks for mine!  Road trip to Portland to visit with friends, then down to the Californian Desert to attend the Contact in the Desert conference (did you know I have a fascination with space, non-physical intelligence and disclosure topics ... well, you know now!).  I'll write about my experience on the blog, I'm sure they will be intriguing, mind bending and probably a little kooky too (how can they not be when a bunch of crazy UFO types get together).

Then I'll return to Portland to work with Sarah Moyle (who attended my Fundamentals of Interactive-Visuals workshop). Sarah makes fantastic Whiteboard Animation videos and will be directing me on one I'll be adding to my sites.  I'm so looking forward to our collaboration (to her teaching this old dog some new fangled tricks).
Yours in SHIFTing IT,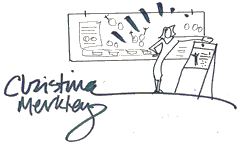 Christina Merkley,
The SHIFT-IT Coach
and Interactive-Visuals Mentor
"I FOUND HER COURSE CONTENT TO BE THOROUGH,
KNOWLEDGEABLE AND WELL ORGANIZED ..."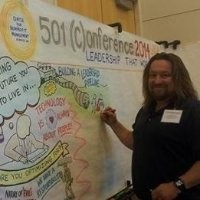 Greg Whicker
Graphic Recorder & Illustrator

"Christina Merkley offers a number of fantastic programs (both online and in-person) for personal and professional development in and around the various fields related to Graphic Facilitation.
In attending "Fundamentals of Interactive-Visuals I found her presentations and course content to be thorough, knowledgeable, and well organized
...her utilization of current technology to be convenient, practical (and highly advantageous)...and, her manner and personality to be professional, yet warm and encouraging as well. I highly encourage other Process Professionals to take advantage of the many wonderful growth opportunities Christina has to offer!"
Greg Whicker
Graphic Recorder and Illustrator
Los Angeles, California, U.S.A.
www.facilitationgraphics.com

SHIFT-IT SCHOOL: UPCOMING COURSES
BIZ BASICS FOR PROCESS PROFESSIONALS
For Consultants, Content Experts, Teachers, Trainers, Facilitators, Coaches, Counselors, Bodyworkers, Scribes/Recorders, Artists, etc. )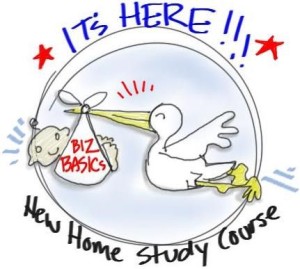 Developing one's craft is only part of the puzzle in having a successful solopreneur practice --- to understand and successfully implement solid business strategies is another. My Outer Work Model to build (or revamp) a 50-300K practice has only been shared with students in my longer-term masterminds. Now this much needed info is available in a condensed Home Study Course (fully online and available 24/7).
Topics include: inspiration, identity & brand, structures & banking, offerings and proper sales funnel creation, sales & marketing (including social media), pricing and effective collection policies, tech and administrative support (team building), bookkeeping & accounting, and partnering and joint ventures. AND, the positive mindset and resilience that underscores it all. Everything you need to build your expertise into a successful solo practice or small business.
Did You Miss The Biz Basics Launch Special? If So, I'm Granting One Final Chance. Use This Coupon Code to Save $200 (For the Deluxe Version on 1-Pay Option Only, Until August 5) Coupon Code: Stork
ONE-TO-ONE WITH CHRISTINA
(TAILORMADE FOR YOU)
In-Person and Distance Options

We've just refreshed my Private Coaching and Private Training pages ... check out my new Distance Sessions (now with tablet recording via web conferencing!). And, In-Person options in beautiful Victoria, British Columbia, Canada. Private, tailored attention for rapid acceleration.
* Email [email protected] now for Exploratory Chat to determine best fit and dates.
SHIFT-IT ONLINE
7 Weeks Online: Sept. 20 - Nov.1, 2014
Video Webinars: Saturdays, 10-11:30 a.m. Pacific

Ready to get what you want?! My signature coaching group – gets you what you next want in your personal and/or professional life. You develop a crystal clear vision, unravel your resistance ... and rapidly SHIFT your world. Practical real-world strategic planning coupled with leading-edge energy alignment --- all in my innovative 'Visual Coaching' style. Join this supportive community with other like-minded SHIFTers from across the globe. The SHIFT-IT Home Retreat Kit® with 17 visual maps is included, plus handy Repeater Option for those joining us again!
Registration Filling Now
Full Details and Online Registration
Note: Pre-requisite for Visual Coach Certification. FYI, Repeater Option available for those who have taken this program before and are ready for your next shift.
Fundamentals of Interactive-Visuals (On-Line Version)
9 Weeks Online: Oct 6 -Dec 10, 2014
Video Webinars: Mondays & Wednesdays, noon-1pm Pacific
Over 87% of your facilitation, coaching, training and consulting clients are visual thinkers – learn powerful visual skills to boost the effectiveness of how you work with them. This professional skills training (fully online) thoroughly covers the four main applications of working visually with groups and individuals so you can add these powerful tools to your own process toolkit: studio work (charts & videos), graphic recording, graphic facilitation and graphic coaching. This is the online version of my popular 3-day fundamentals training (no travel required). Attracts folks from across the English speaking world – your Graphic Tribe!
20 15 Spots Left:
Early Bird Before Sept. 8th
Full Details and Online Registration
Note: Pre-requisite for Visual Coach Certification.
FYI, Repeater Option available for those who have taken this program and want another round.
FEATURED ARTICLE:
BODYTALK: AN INTRIGUING RESISTANCE BUSTER
To Listen Or Download Mp3 Version of This Article, Click Here
I'm writing this issue of The SHIFT-IT eZine on a new modality I've been exploring and learning this year ... called BodyTalk.  A few months ago I blogged about my initial explorations via an in-person special I offered folks here in Victoria, British Columbia, Canada (click here for previous post).
| | |
| --- | --- |
| | I've progressed now beyond doing BodyTalk just in person ... having attended courses on how to do Distance Sessions. Something I have been intrigued by since I first heard you could do this methodology by distance (since the bulk of my clientele does not live locally and distance work is how I work with the majority of my coaching clientele anyhow). |
LOVING DISTANCE SESSIONS:
I'm happy to report that I'm really LOVING the Distance Sessions.  Just like my Visual Coaching and Graphic Facilitation mentoring, nothing beats in-person work (if you can do it, it's the way to go).  However, if you can't ... distance work is a very good runner up.
Now, I don't mean this in an ego kind of way ... but, I'm a really good coach. I've been doing various kinds of group and individual process work for over two decades now and I know my stuff (yup, lots of mileage, my site photos are compassionately touched up so my crows feet don't show too much!).
What I really love and appreciate about BodyTalk is that, if it's a priority for my client, my other modalities can come through too. So with BodyTalk I'm finding I'm effective right off the bat. And the more I do it, the more the inherent wisdom of the methodology is teaching me the rest of its extensive framework.
EMPHASIS ON PRIORITY
What I also really appreciate about Bodytalk is that its customized for each person so each experience is unique onto itself --- whatever comes up is the PRIORITY for that person, in that moment in time. A client might come in with a specific agenda they want to work on. Could be a certain body condition or health concern. Or, could be a condition in their life, like their finances, business/career, relationship ...
Click Here to Continue Reading on Blog and See & Leave Comments
---
For the full SHIFT-IT e-Zine Archives: Click Here
For the full SHIFT-IT Audio Library (mp3): Click Here
©2014 Christina L. Merkley
WANT TO USE THIS ARTICLE IN YOUR E-ZINE OR WEB SITE?
You can, as long as you include this blurb and a functional link to my site:
Author's Bio:Christina Merkley, "The SHIFT-IT Coach" is a Visioning and Strategic Planning Expert specializing in Visual Thinking and Emotional Alignment techniques. Based in charming Victoria, British Columbia, Canada, she works deeply with individuals, partners and conscious businesses to define and manifest what they truly want. And, trains other Process Professionals in her innovative ways of working. For more information visit: www.shift-it-coach.com and www.visualcoaches.com

OUTER AND INNER COACHING: Distance and In-Person
In the scheme of things, life is short. It's a shame not to live it in alignment with who you truly are. I have successfully SHIFTed to a life of authenticity, creativity and abundance that is congruent with who I am. Let me assist you in doing the same via private coaching (either by distance or in-person).
My clientele are passionate individuals who deeply desire the manifestation of their Full Selves. Most want to get their 'special it' into the world (entrepreneurs, biz owners, leaders, teachers, consultants, facilitators, trainers, coaches, therapists, visual practitioners, etc.).
I employ a customized blend of both Outer (left brain) and Inner (right brain) approaches that get you firmly into the reality of what you want. Eliminate confusion, resistance and procrastination. Enhance clarity, alignment and flow.
Stop splitting your energy - create a congruent life that works for you and help the planet in the process!
ADD "WORKING VISUALLY " TO YOUR OWN PROCESS TOOLKIT:
Are you a process professional with a creative bend? Are you intrigued with the visual way I work with my clients? I've trained hundreds of facilitators, consultants, trainers and now coaches, counselors, social workers, etc from around the globe. Learn fundamental visual skills that you can use in your own work with groups and individuals. Come join the visual tribe!
Christina Merkley
The SHIFT-IT Coach &
Interactive-Visuals Mentor

SHIFT-IT Coach, Inc. is a boutique training and coaching company specializing in visual process work for groups and individuals. Founded by Christina Merkley, pioneering Visual Facilitator and Coach, we work deeply with individuals, partners and conscious businesses to define and manifest what you really want. We also train Process Professionals from across the globe in our innovative ways of working. For more information visit www.shift-it-coach.com and www.visualcoaches.com.
IN THIS ISSUE:
>>Featured Article:
BodyTalk: An Intriguing Resistance Buster
---
CONNECT WITH US:
---
BLOG ENTRIES:
Looking for more rich, SHIFT-IT content? Check out my blog for recent ramblings, resources and general interest features:
More Spirit Animals: Otter Family and Heron
7 Tips to Build Your 50-300k Biz
She's Learning Important Contract Negotiation for Graphic Recording
What Abraham-Hicks Told Me on the Hot Seat
GOOD RESOURCE: Oprah's Interviews with Esther Hicks & Abraham
Mindspace Gave Me Reassurance and Her a Massage
Click here to read The SHIFT-IT Blog.
---
EZINE ARCHIVES:
Browse past issues here.
Listen to the ezine here.


---
PRODUCTS:
Biz Basics For
Process Professionals Home Study Kit
The SHIFT-IT Home Retreat Kit®
---
Our Websites:
---
---