A NOTE FROM CHRISTINA:
My summer travels have continued with another trip down the coast, back to the Portland, Oregon area. This past weekend I had the pleasure of attending Michael Tellinger's lecture at the ECETI Ranch (a place I've wanted to visit for quite some time).
Michael is a South African researcher (and now politician) who's done extensive studies of a vast network of ruins, most specifically one known as 'Adam's Calendar'. From an early age I've been fascinated with archeology so it was a treat to catch Michael in person in a relatively small venue. And to also hear of his more recent work involving the UBUNTU philosophy and movement.
| | |
| --- | --- |
| Michael Tellinger | Adam's Calendar |
After a stay in Bend, Oregon I'm back to the ranch for a final summer experience with host James Gilliland. Then its back home to hunker down for the start of my own fall season: we've got SHIFT-IT Online and Fundamentals of Interactive-Visuals (online version) right around the corner.
Yours in SHIFTing IT,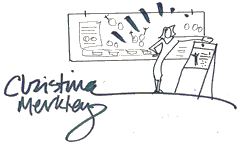 Christina Merkley,
The SHIFT-IT Coach
and Interactive-Visuals Mentor
I COULD NOT BE MORE PLEASED WITH HOW THE GRAPHIC
FACILITATION COURSE WENT AND RECOMMEND IT TO THE MANY
PEOPLE WHO ASK "HOW DO YOU DO THAT?"
Aaron Johannes
Consultant, Speaker,
Graphic Facilitator/Recorder
"Part of what I liked about Christina's Fundamentals Interactive-Visuals is that it works for people at all different levels. She transforms folks who have very little knowledge about Graphic Recording to becoming quite accomplished over a relatively short period of time. I watched people learn in 9-weeks what it took me a year to learn through experience, and at the end of the course I think any of them could have confidently gone to the wall as Graphic Recorders.
Simultaneously participants with more experience put what they do into greater context, hone skills, receive feedback (on what's working and what's not) and interact with others interested in how working visually creates opportunity for clarity and unity. Christina's coaching background is also really evident and a great bonus ... as she helps you focus on your strengths and plan for a bigger future (the private coaching session with her is not be missed!). I could not be more pleased with how the course went and recommend it to the many people who ask "how do you do that?"
Aaron Johannes
Consultant, Speaker, Graphic Facilitator/Recorder
Vancouver, British Columbia, Canada
Spectrum Consulting. Collaborative Learning, Research and Press. www.imagineacircle.com

SHIFT-IT SCHOOL: UPCOMING COURSES


SHIFT-IT ONLINE
7 Weeks Online: Sept. 20 - Nov.1, 2014
Video Webinars: Saturdays, 10-11:30 a.m. Pacific

Ready to get what you want?! My signature coaching group – gets you what you next want in your personal and/or professional life. You develop a crystal clear vision, unravel your resistance ... and rapidly SHIFT your world. Practical real-world strategic planning coupled with leading-edge energy alignment --- all in my innovative 'Visual Coaching' style. Join this supportive community with other like-minded SHIFTers from across the globe. The SHIFT-IT Home Retreat Kit® with 17 visual maps is included, plus handy Repeater Option for those joining us again!
Registration Filling Now
Full Details and Online Registration
Note: Pre-requisite for Visual Coach Certification. FYI, Repeater Option available for those who have taken this program before and are ready for your next shift.
Fundamentals of Interactive-Visuals (On-Line Version)
9 Weeks Online: Oct 6 -Dec 10, 2014
Video Webinars: Mondays & Wednesdays, noon-1pm Pacific
Over 87% of your facilitation, coaching, training and consulting clients are visual thinkers – learn powerful visual skills to boost the effectiveness of how you work with them. This professional skills training (fully online) thoroughly covers the four main applications of working visually with groups and individuals so you can add these powerful tools to your own process toolkit: studio work (charts & videos), graphic recording, graphic facilitation and graphic coaching. This is the online version of my popular 3-day fundamentals training (no travel required). Attracts folks from across the English speaking world – your Graphic Tribe!
20 12 Spots Left:
Early Bird Until Sept. 8th
Full Details and Online Registration
Note: Pre-requisite for Visual Coach Certification.
FYI, Repeater Option available for those who have taken this program and want another round.
PRIVATE SESSIONS WITH CHRISTINA
Distance and In-Person: Coaching and Training Sessions

Public dates don't work for you? Or, not a group person? And/or prefer customized sessions tailored just for you and your situation? Private Training (visual skills) and Private Coaching (advanced visual skills, business coaching, life coaching, energy alignment) either in-person in beautiful Victoria, British Columbia, Canada or via distance sessions by web conference and online scribing.
*Next Step: Exploratory Chat with Christina to discuss your needs and possible dates, write [email protected] to request.
FEATURED ARTICLE:
ORPHAN RESCUES FOR SELF-EMPLOYMENT
To Listen Or Download Mp3 Version of This Article, Click Here
I had a Distance Session client earlier this week ... a follow-up with a woman who took my Fundamentals of Interactive-Visuals course last season.  She's doing phenomenal ... weaving the visual way of working into her current work and also strategizing a 6-month transition plan to launch into an independent practice.
| | |
| --- | --- |
| In the course of the coaching session we covered a lot of territory ... gave feedback on various graphic facilitation work she's done, reviewed a preliminary marketing piece, talked about her geographical area to help her network with other practitioners there and ideas about business development (she'll be semi-retired so a part-time $50k practice is her vision). This woman is solid, she'll do it. | |
As solid as she is, it was my pleasure to witness a common "Orphan" pop up ... one that many of my clients have and one I also have the pleasure of interacting with in my own life. And to do a little "Orphan Rescue" on this fragmented aspect.
| | |
| --- | --- |
| Definition of 'Orphan': | Sooooo, for those who may not be familiar with the 'Orphan' terminology, let me back up a bit. Orphan Rescue is one of my favorite Inner Work processes ... as its deliciously vulnerable and the shifts that happen as a result are very palpable. As a practical coach who loves results I collect various processes that work, and Orphan Rescue (aka Soul Retrieval or Soul Integration) is a keeper. I don't do it with every client I work with, but it's in my back pocket for when needed. |
Click Here to Continue Reading
---
For the full SHIFT-IT e-Zine Archives: Click Here
For the full SHIFT-IT Audio Library (mp3): Click Here
©2014 Christina L. Merkley
WANT TO USE THIS ARTICLE IN YOUR E-ZINE OR WEB SITE?
You can, as long as you the share links in the blog post and/or include this blurb and a functional link to my site:
Christina Merkley, "The SHIFT-IT Coach" is a Visioning and Strategic Planning Expert specializing in Visual Thinking and Energy Alignment techniques. Based in charming Victoria, British Columbia, Canada, she works deeply with individuals, partners and conscious businesses to define and manifest what they truly want. And, trains other Process Professionals in her innovative ways of working. For more information visit: www.shift-it-coach.com and www.visualcoaches.com
OUTER AND INNER COACHING: Distance and In-Person
In the scheme of things, life is short. It's a shame not to live it in alignment with who you truly are. I have successfully SHIFTed to a life of authenticity, creativity and abundance that is congruent with who I am. Let me assist you in doing the same via private coaching (either by distance or in-person).
My clientele are passionate individuals who deeply desire the manifestation of their Full Selves. Most want to get their 'special it' into the world (entrepreneurs, biz owners, leaders, teachers, consultants, facilitators, trainers, coaches, therapists, visual practitioners, etc.).
I employ a customized blend of both Outer (left brain) and Inner (right brain) approaches that get you firmly into the reality of what you want. Eliminate confusion, resistance and procrastination. Enhance clarity, alignment and flow.
Stop splitting your energy - create a congruent life that works for you and help the planet in the process!
ADD "WORKING VISUALLY " TO YOUR OWN PROCESS TOOLKIT:
Are you a process professional with a creative bend? Are you intrigued with the visual way I work with my clients? I've trained hundreds of facilitators, consultants, trainers and now coaches, counselors, social workers, etc from around the globe. Learn fundamental visual skills that you can use in your own work with groups and individuals. Come join the visual tribe!
Christina Merkley
The SHIFT-IT Coach &
Interactive-Visuals Mentor

SHIFT-IT Coach, Inc. is a boutique training and coaching company specializing in visual process work for groups and individuals. Founded by Christina Merkley, pioneering Visual Facilitator and Coach, we work deeply with individuals, partners and conscious businesses to define and manifest what you really want. We also train Process Professionals from across the globe in our innovative ways of working. For more information visit www.shift-it-coach.com and www.visualcoaches.com.
IN THIS ISSUE:
>>Featured Article:
Orphan Rescues for Self-Employment
---
CONNECT WITH US:
---
BLOG ENTRIES:
Looking for more rich, SHIFT-IT content? Check out my blog for recent ramblings, resources and general interest features:
Certified Visual Coach Ayn Hanna's Autobiographical Badge Project
Belleruth Naparstek's View: Time for a Rant On Robin Williams, Bipolar Illness & Our Need for Simple Answers
BodyTalk: An Intriguing Resistance Buster
More Spirit Animals: Otter Family and Heron
7 Tips to Build Your 50-300k Biz
She's Learning Important Contract Negotiation for Graphic Recording
What Abraham-Hicks Told Me on the Hot Seat
Click here to read The SHIFT-IT Blog.
---
EZINE ARCHIVES:
Browse past issues here.
Listen to the ezine here.


---
PRODUCTS:
Biz Basics For
Process Professionals Home Study Kit
The SHIFT-IT Home Retreat Kit®
---
Our Websites:
---
---