A NOTE FROM CHRISTINA: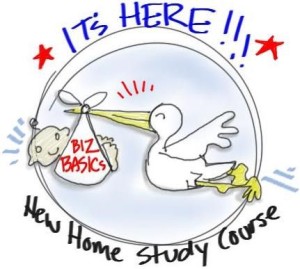 Last few weeks have been filled with project management tasks – getting our new e-Learn Kit finished: Biz Basics for Process Professionals.  This program is for consultants, facilitators, trainers, coaches, counselors, body/depth/energy workers, scribes and others who do process work with groups and/or individuals. For new or seasoned practitioners to build or refresh operations in the 50-300k range. 
Up until now, my guidance has only been available thru private coaching or live classes. But now, you can get the full scoop on this important topic, from the comfort of your own location with 24/7 access. Plus until Monday it's on a special, one-time only 'launch rate'.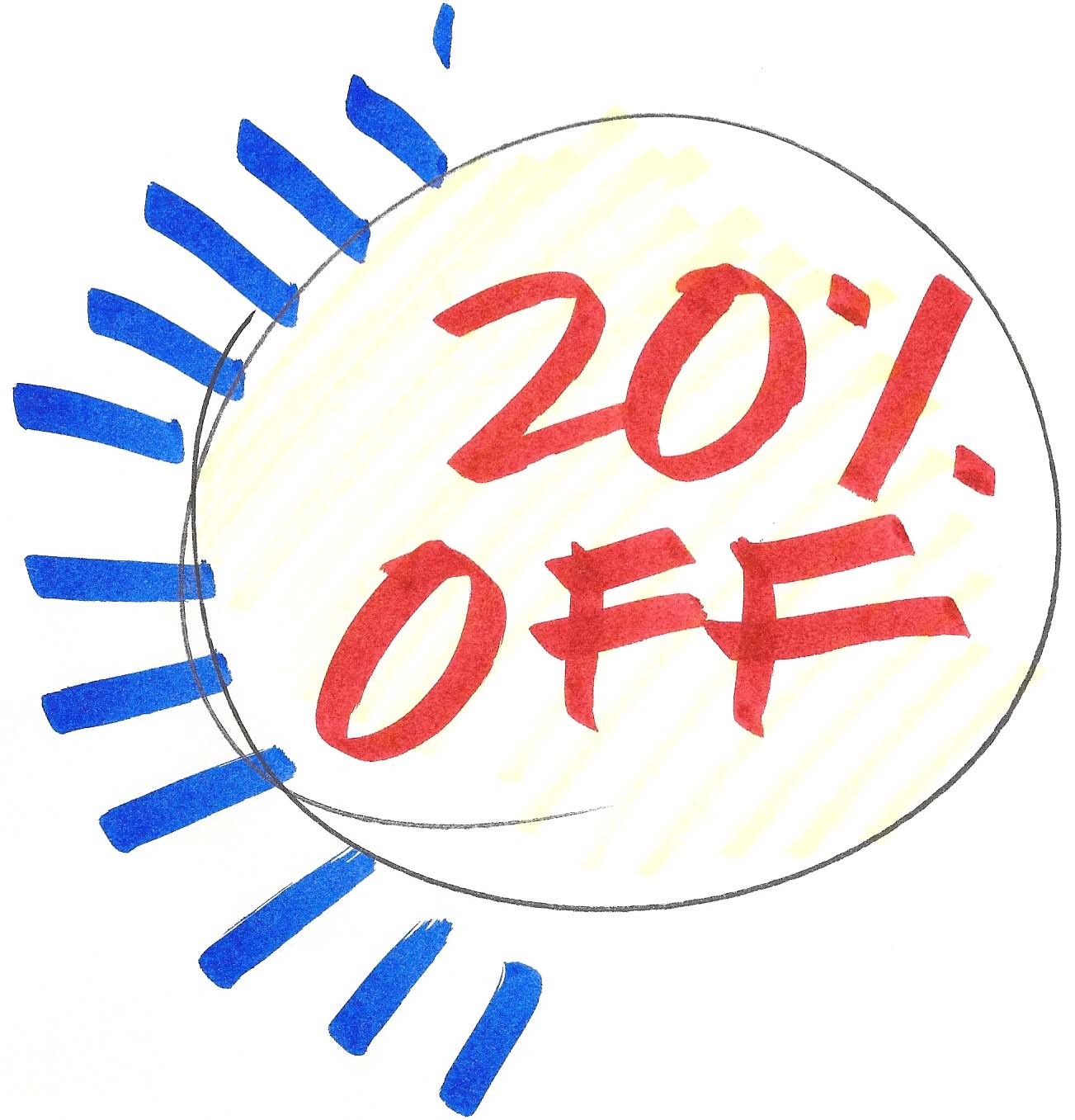 In order to create this learning product, we had to add a whole new site and membership system to house it – it's been quite a journey! But now we've got a great new home for SHIFT-IT School ... as more e-Learn products are coming!
Biz Basics is foundational info for my clients (must have for the Process Workers who want to manifest their own it). And it's the companion left-brain/outer work course to go with the right-brain/inner work course I'm cookin' next. In the nick of time too, cause I'm having some very interesting kundalini energy experiences that we'll be talking about (some of the trippy symptoms of aligning with your soul's path).
To mark the milestone of the launch of the Biz Basics Kit, this issue's article is on my Outer Work Model and 7 Tips to Build Your Process Practice or Small Biz. I hope it inspires you to manifest your own biz dreams!
Yours in SHIFTing IT,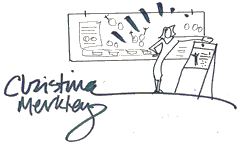 Christina Merkley,
The SHIFT-IT Coach
and Interactive-Visuals Mentor
"GRATEFUL FOR YOUR WORK AND YOUR GRACIOUS GENEROSITY"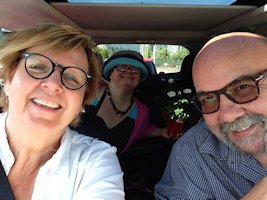 Shelley Nessman
Consultant on Strategic Initiatives

"I know you realize the power of the deep spiritual nature of the work that you do- I just wanted to thank you for inspiring me over the last few months with SHIFT-IT Online and Fundamentals of Interactive-Visuals.
I can't think of any course that I have done or even taught over the last few years that had such a freeing effect on me and I wanted to let you know that I truly am grateful for your work and your gracious generosity! I learned so much on so many levels ... and it continues as I refine my SHIFT-IT maps!
I really appreciated the opportunities for us to connect with each other as a cohort and as friends ... a really wonderful part of your curriculum! I made great connections and got to share bits of myself too (which brought me such wonderful understanding!)
There is something about holding space for co-creation mixed with individual creation and growth that is so powerful! I am looking at ways to build this aspect into my work – particularly with people who are labeled developmentally disabled. Often the people I work with are incredibly wise and creative- and are actually hungry for space to create without parameter. This isn't about your curriculum per se, more about the energy and style you brought to us ... so thank you for the modeling!
I am dipping my toe into the graphics piece slowly - still battling some gremlins there ... and may repeat SHIFT-IT again in the fall. Am reading Ask And It Is Given and watching tons of Abraham Hicks - really resonates for me (thanks for introducing the Law of Attraction aspect, truly wonderful)."
Shelley Nessman
Consultant on Strategic Initiatives
Spectrum Society for Community Living
Vancouver, British Columbia, Canada
www.spectrumsociety.org

SHIFT-IT SCHOOL: UPCOMING COURSES
BIZ BASICS FOR PROCESS PROFESSIONALS
For Consultants, Content Experts, Teachers, Trainers, Facilitators, Coaches, Counselors, Bodyworkers, Scribes/Recorders, Artists, etc. )
Developing one's craft is only part of the puzzle in having a successful solopreneur practice --- to understand and successfully implement solid business strategies is another. My Outer Work Model to build (or revamp) a 50-300K practice has only been shared with students in my longer-term masterminds. Now this much needed info is available in a condensed Home Study Course (fully online and available 24/7). Topics include: inspiration, identity & brand, structures & banking, offerings and proper sales funnel creation, sales & marketing (including social media), pricing and effective collection policies, tech and administrative support (team building), bookkeeping & accounting, and partnering and joint ventures. AND, the positive mindset and resilience that underscores it all. Everything you need to build your expertise into a successful solo practice or small business.
NOW AVAILABLE!
SPECIAL ONE-TIME-ONLY RATE NOW UNTIL MONDAY!
ONE-TO-ONE WITH CHRISTINA
(TAILORMADE FOR YOU)
In-Person and Distance Options

We've just refreshed my Private Coaching and Private Training pages ... check out my new Distance Sessions (now with tablet recording via web conferencing!). And, In-Person options in beautiful Victoria, British Columbia, Canada. Private, tailored attention for rapid acceleration.
* Email [email protected] now for Exploratory Chat to determine best fit and dates.
SHIFT-IT ONLINE
7 Weeks Online: Sept. 20 - Nov.1, 2014
Video Webinars: Saturdays, 10-11:30 a.m. Pacific

Ready to get what you want?! My signature coaching group – gets you what you next want in your personal and/or professional life. You develop a crystal clear vision, unravel your resistance ... and rapidly SHIFT your world. Practical real-world strategic planning coupled with leading-edge energy alignment --- all in my innovative 'Visual Coaching' style. Join this supportive community with other like-minded SHIFTers from across the globe. The SHIFT-IT Home Retreat Kit® with 17 visual maps is included, plus handy Repeater Option for those joining us again!
Registration Filling Now
Full Details and Online Registration
Note: Pre-requisite for Visual Coach Certification. FYI, Repeater Option available for those who have taken this program before and are ready for your next shift.
Fundamentals of Interactive-Visuals (On-Line Version)
9 Weeks Online: Oct 6 -Dec 10, 2014
Video Webinars: Mondays & Wednesdays, noon-1pm Pacific
Over 87% of your facilitation, coaching, training and consulting clients are visual thinkers – learn powerful visual skills to boost the effectiveness of how you work with them. This professional skills training (fully online) thoroughly covers the four main applications of working visually with groups and individuals so you can add these powerful tools to your own process toolkit: studio work (charts & videos), graphic recording, graphic facilitation and graphic coaching. This is the online version of my popular 3-day fundamentals training (no travel required). Attracts folks from across the English speaking world – your Graphic Tribe!
20 15 Spots Left:
Early Bird Before Sept. 8th
Full Details and Online Registration
Note: Pre-requisite for Visual Coach Certification. FYI, Repeater Option available for those who have taken this program and want another round.
FEATURED ARTICLE:
7 TIPS TO BUILD YOUR 50-300K BIZ
To Listen Or Download Mp3 Version of This Article, Click Here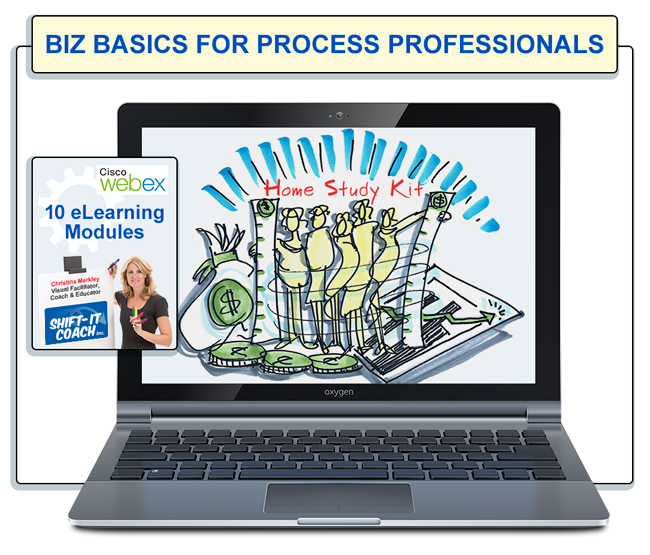 I've operated my own facilitation- coaching-training biz since 2001. When I made the leap to the independent lifestyle, I was excited but scared as heck. Along the way I have learned A LOT not only about how to survive running a process based business but how to thrive doing what I love.
For years I've mentored others in how to do the same through private coaching, partnering and various courses, particularly the longer-term masterminds. 
In today's article, I want to share with you what I've coined my "Outer Work Model" ... the seven stages for building a process based operation in the 50-300K range.

This Model is the heart of the implementation coaching I do with my own clients, and this valuable content is now available in my just launched New 10-Module eLearn Kit: Biz Basics for Process Professionals.
---

Stage 1: INSPIRATION

It all begins with Inspiration ... the idea, hunch or urge that niggles at you ... the thing that wants to manifest through YOU. If you are new to self-employment or entrepreneurship, it's the craft, practice or business that you want to launch (even if you are apprehensive, nervous or downright scared ... and don't know yet how to do it).
If you are already in business, it's the thing that ...
Click Here to Continue Reading on Blog and See & Leave Comments
---
For the full SHIFT-IT e-Zine Archives: Click Here
For the full SHIFT-IT Audio Library (mp3): Click Here
©2014 Christina L. Merkley
WANT TO USE THIS ARTICLE IN YOUR E-ZINE OR WEB SITE?
You can, as long as you include this blurb and a functional link to my site:
Author's Bio: Christina Merkley, "The SHIFT-IT Coach" and creator of the SHIFT-IT System®, is a Visioning and Strategic Planning Expert specializing in Visual Thinking and Emotional Alignment techniques. Based in charming Victoria, British Columbia, Canada, she works deeply with individuals, partners and conscious businesses to define and manifest what they truly want. And, trains other process professionals in her innovative ways of working. For more information visit: www.shift-it-coach.com and www.visualcoaches.com
OUTER AND INNER COACHING: Distance and In-Person
In the scheme of things, life is short. It's a shame not to live it in alignment with who you truly are. I have successfully SHIFTed to a life of authenticity, creativity and abundance that is congruent with who I am. Let me assist you in doing the same via private coaching (either by distance or in-person).
My clientele are passionate individuals who deeply desire the manifestation of their Full Selves. Most want to get their 'special it' into the world (entrepreneurs, biz owners, leaders, teachers, consultants, facilitators, trainers, coaches, therapists, visual practitioners, etc.).
I employ a customized blend of both Outer (left brain) and Inner (right brain) approaches that get you firmly into the reality of what you want. Eliminate confusion, resistance and procrastination. Enhance clarity, alignment and flow.
Stop splitting your energy - create a congruent life that works for you and help the planet in the process!
ADD "WORKING VISUALLY " TO YOUR OWN PROCESS TOOLKIT:
Are you a process professional with a creative bend? Are you intrigued with the visual way I work with my clients? I've trained hundreds of facilitators, consultants, trainers and now coaches, counselors, social workers, etc from around the globe. Learn fundamental visual skills that you can use in your own work with groups and individuals. Come join the visual tribe!
Christina Merkley
The SHIFT-IT Coach &
Interactive-Visuals Mentor

SHIFT-IT Coach, Inc. is a boutique training and coaching company specializing in visual process work for groups and individuals. Founded by Christina Merkley, pioneering Visual Facilitator and Coach, we work deeply with individuals, partners and conscious businesses to define and manifest what you really want. We also train Process Professionals from across the globe in our innovative ways of working. For more information visit www.shift-it-coach.com and www.visualcoaches.com.
IN THIS ISSUE:
>>Featured Article:
7 Tips To Build Your 50-300K Biz
---
CONNECT WITH US:
---
BLOG ENTRIES:
Looking for more rich, SHIFT-IT content? Check out my blog for recent ramblings, resources and general interest features:
She's Learning Important Contract Negotiation for Graphic Recording
What Abraham-Hicks Told Me on the Hot Seat
GOOD RESOURCE: Oprah's Interviews with Esther Hicks & Abraham
Mindspace Gave Me Reassurance and Her a Massage
Awwwww, Sweet Card from Tara About FIV
Process Workers Take the Bounce
Click here to read The SHIFT-IT Blog.
---
EZINE ARCHIVES:
Browse past issues here.
Listen to the ezine here.


---
PRODUCTS:
Biz Basics For
Process Professionals Home Study Kit
The SHIFT-IT Home Retreat Kit®
---
Our Websites:
---
---