A NOTE FROM CHRISTINA:
The current SHIFT-IT School semester is winding down.  Wrapped Visual Coach Certification mid-month (the fabulous coaches-in-training have moved into the client hours phase of the program). And my Magic Marker Masterminders are coming next week for their final retreat (6 months has flown by and the shifts have been amazing!).
Patricia, Theresa, Jessica and Elizabeth (my team whom I'm so appreciative of) have been hard at work refreshing our sites with the fall 2014 and 2015 schedule.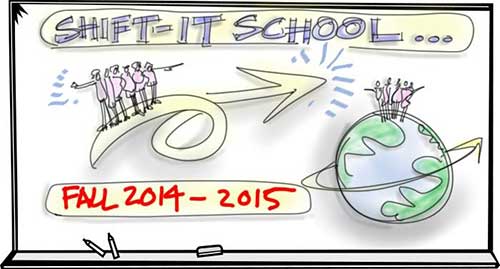 Today I'm flying to Calgary, Alberta for another BodyTalk related training, called "MindScape". It's gonna teach me, among other things, how to do my BodyTalk sessions from a distance (the super cool thing about energy/consciousness medicine is it's not a requirement that we be in the same physical location). I'll be experimenting with this over the summer and will open up some distance slots in the fall (for my long-distance clients who have been wanting to get in on this fascinating protocol).
Have a great weekend all.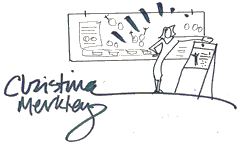 Christina Merkley,
The SHIFT-IT Coach
and Interactive-Visuals Mentor
I CONSIDER SHIFT-IT A TIMELESS TREASURE, A GIFT TO MYSELF ON THE WAY TO BECOMING MY NEXT SELF.
Karen Gilliam
Leadership &
Organizational Change

"My goal is to become a Certified Visual Coach® and part of certification is to experience The SHIFT-IT Visual Coaching System® as an individual from the inside-out. Because I am a Process Professional, have coached for several years and regularly spend quality time on self-reflection, I didn't expect any "new" information to emerge.
I was incorrect. Christina has created a process for deep, personal self-reflection while facilitating a safe space for an on-line community of kindred spirits to hold conversations that matter.
My greatest ah-ha dealt with 'focusing'. You cannot desire something, predominantly focus on the absence of it; then expect to receive it. Yet, that was my re-occurring practice, in both my personal and professional life. Now when those thoughts come up, I immediately recognize the ensuing feelings; then stop and re-direct my thoughts to focus on what I do want and desire in my life.
Thanks to Christina's work with the Law of Attraction, I also re-learned the concept of deliberate creation and the essence of allowing. I may think it but now know that I must also expect it by allowing it into my life. The it being whatever I want/desire in my life.
I enjoyed working through the maps; some easier than others. The one that spoke to me most passionately was the Archeology of Beliefs. As I listened to the whispers of my ancestors, I could understand why, at times, I move through life with one foot on the brake and the other on the gas pedal. In today's hectic, non-stop, microwave environment, I consider SHIFT-IT a timeless treasure, a gift to myself on the way to becoming my Next Self."
Karen Gilliam, Ph.D.
Leadership & Organizational Change
Division Chief, Governmental Agency
Cleveland, Ohio, U.S.A.
SHIFT-IT SCHOOL: UPCOMING COURSES
BIZ BASICS FOR PROCESS PROFESSIONALS
(Home Study Course)

For Consultants, Content Experts, Teachers, Trainers, Facilitators, Coaches, Counselors, Bodyworkers, Scribes/Recorders, Artists, etc. )
Developing one's craft is only part of the puzzle in having a successful solopreneur practice --- to understand and successfully implement solid business strategies is another. My Outer Work Model to build (or revamp) a 50-300K practice has only been shared with students in my longer-term masterminds. Now this much needed info is available in a condensed Home Study Course. Topics include: inspiration, identity & brand, structures & banking, offerings and proper sales funnel creation, sales & marketing (including social media), pricing and effective collection policies, tech and administrative support (team building), bookkeeping & accounting, and partnering and joint ventures. AND, the positive mindset and resilience that underscores it all. Everything you need to build your expertise into a successful solo practice or small business.
COMING IN EARLY JULY!
ONE-TO-ONE WITH CHRISTINA
(TAILORMADE FOR YOU)
In-Person and Distance Options

We've just refreshed my Private Coaching and Private Training pages ... come to Victoria, British Columbia, Canada to work privately in a customized retreat or training experience just for you and your unique needs. And/or receive your mentoring via my new distance sessions (now with tablet recording via web conferencing!). One to one attention for rapid acceleration. Some availability in July and the fall (none in August).
Secure Your Own Date Now
* Email [email protected] now for Exploratory Chat to determine best fit and dates.
SHIFT-IT ONLINE
7 Weeks Online: Sept. 20 - Nov.1, 2014
Video Webinars: Saturdays, 10-11:30 a.m. Pacific

Ready to get what you want?! My signature coaching group – gets you what you next want in your personal and/or professional life. You develop a crystal clear vision, unravel your resistance … and rapidly SHIFT your world. Practical real-world strategic planning coupled with leading-edge energy alignment --- all in my innovative 'Visual Coaching' style. Join this supportive community with other like-minded SHIFTers from across the globe. The SHIFT-IT Home Retreat Kit® with 17 visual maps is included, plus handy Repeater Option for those joining us again!
Registration Now Open
Full Details and Online Registration
Note: Pre-requisite for Visual Coach Certification. FYI, Repeater Option available for those who have taken this program before and are ready for your next shift.
FUNDAMENTALS OF INTERACTIVE-VISUALS
(Online Version)
9 Weeks Online: Oct 6 -Dec 10, 2014
Video Webinars: Mondays & Wednesdays, noon-1pm Pacific

Over 87% of your facilitation, coaching, training and consulting clients are visual thinkers – learn powerful visual skills to boost the effectiveness of how you work with them. This professional skills training (fully online) thoroughly covers the four main applications of working visually with groups and individuals so you can add these powerful tools to your own process toolkit: studio work (charts & videos), graphic recording, graphic facilitation and graphic coaching. This is the online version of my popular 3-day fundamentals training (no travel required). Attracts folks from across the English speaking world – your Graphic Tribe!
Reserve Your Seat: 20 18 Spots Left:
Early Bird Before Sept. 8th
Full Details and Online Registration
Pre-requisite for Visual Coach Certification
FYI, Repeater Option available for those who have taken this program before and want to refresh.
FEATURED ARTICLE:
SHE NEEDS TO CREATE A ROOM
To Listen Or Download Mp3 Version of This Article, Click Here
Another client story from my coaching work with Process Professionals ... this one's about developing your niche and getting yourself out there as a content leader.

My client is embedded in a well-known IT company. I think it was her first real job and she's climbed herself up over 15 or 20 years. She has a passion for female leadership and assisting young talent (female and male). She's smart, knowledgeable and a tad disgruntled.
Her biggest driver is a desire to get her "IT" (it not I.T.) out there (to have programs and products like I do and use the web to attract her clientele). She's followed me and others who use a similar online marketing model ... and truth be told, she's thinks if I/we can do it, then she should be able to too.
She's absolutely right (of course she can, we aren't rocket scientists) ... however I also teased her that she'll need to...
Click Here to Continue Reading on Blog and See & Leave Comments
---
For the full SHIFT-IT e-Zine Archives: Click Here
For the full SHIFT-IT Audio Library (mp3): Click Here
©2014 Christina L. Merkley
WANT TO USE THIS ARTICLE IN YOUR E-ZINE OR WEB SITE?
You can, as long as you include this blurb and a functional link to my site:
Author's Bio: Christina Merkley, "The SHIFT-IT Coach" and creator of the SHIFT-IT System®, is a Visioning and Strategic Planning Expert specializing in Visual Thinking and Inner Alignment techniques. Based in charming Victoria, British Columbia, Canada, she works deeply with individuals, partners and conscious businesses to define and manifest what they truly want. And, trains other process professionals in her innovative ways of working. For more information visit: www.shift-it-coach.com and www.visualcoaches.com
EXPERIENCE SHIFT-IT COACHING NOW:
In the scheme of things, life is short. It's a shame not to live it in alignment with who you truly are. I have successfully SHIFTed to a life of authenticity, creativity and abundance that is aligned with who I truly am.
Let me assist you in doing the same via private mentorship. I specialize in individuals who need to get their 'special it' into the world (entrepreneurs, biz owners, team leaders, teachers, consultants, facilitators, trainers, coaches, therapists, visual practitioners, etc.).
I coach you to build/enhance your internal or external practice or small business (including identity/brand, biz basics, creation of effective offerings, necessary systems (tech and socio) and marketing & sales). As well as having a satisfying personal life of supportive family, friends and community. Stop splitting your energy - create a congruent life that truly works for you!
ADD "WORKING VISUALLY " TO YOUR OWN PROCESS TOOLKIT:
Are you a process professional with a creative bend? Are you intrigued with the visual way I work with my clients? I've trained hundreds of facilitators, consultants, trainers and now coaches, counselors, social workers, etc from around the globe. Learn fundamental visual skills that you can use in your own work with groups and individuals. Come join the visual tribe!
Christina Merkley
The SHIFT-IT Coach &
Interactive-Visuals Mentor

SHIFT-IT Coach, Inc. is a boutique training and coaching company specializing in visual process work for groups and individuals. Founded by Christina Merkley, pioneering Visual Facilitator and Coach, we work deeply with individuals, partners and conscious businesses to define and manifest what you really want. We also train Process Professionals from across the globe in our innovative ways of working. For more information visit www.shift-it-coach.com and www.visualcoaches.com.
IN THIS ISSUE:
>>Featured Article:
She Needs to Create a Room
---
CONNECT WITH US:
---
BLOG ENTRIES:
Looking for more rich, SHIFT-IT content? Check out my blog for recent ramblings, resources and general interest features:
Awwwww, Sweet Card from Tara About FIV
Update on My Explorations
into Bodytalk ...
Process Workers Take
the Bounce
Visual Coaches: Remember
Proper Color Options
Spirit Animals: Orca & Eagle on Our Walk
Click here to read the SHIFT-IT Coach blog.

---
EZINE ARCHIVES:
Browse past issues here.
Listen to the ezine here.


---
FEATURED PRODUCT:
The SHIFT-IT Home Retreat Kit®
---
Our Websites:
---
---