A NOTE FROM CHRISTINA:
Whew, where is this year going eh!? Time is whizzing by. It's May ... so that means Fundamentals of Interactive-Visuals, the In-Person version. Given the number of online courses I run now, this is one of the few opportunities that I actually get to meet folks face-to-face, and place markers in hot hands!
| | |
| --- | --- |
| Agenda Map for Our 3 Days | Teaching Basic Icons |

Franki ... a repeat offender
(she's been to Victoria 4x now!)



Veronica ... translating her graphic design chops into new frontiers!
It's always a pleasurable (and transformational) experience, and this cohort was a delight. Back in the day, it used to be that folks traveled far and wide to attend this training, and they still do ... however it was cool the high percentage of local people in attendance. The visual way of working (after 30+ years is finally going mainstream). We've got quite the local hub building here in the Pacific Northwest!

Putting Base Skills to Work



Group Work: True
Graphic Facilitation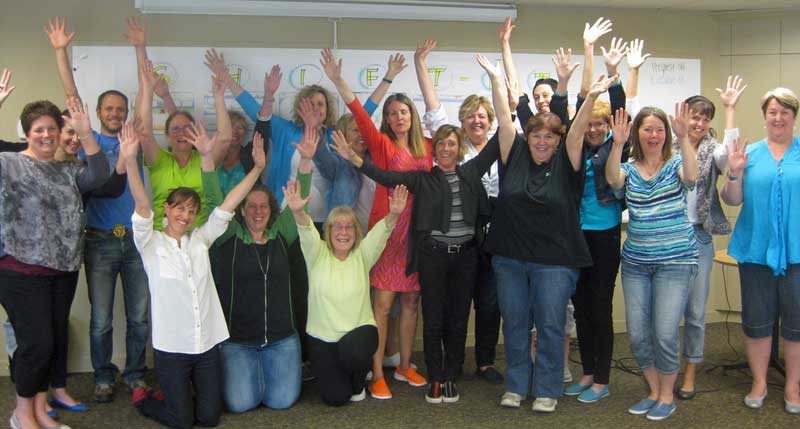 Our Rowdy 2014 Cohort for FIV In-Person striking star person poses!).
The course schedule for all of my Fall 2014 and 2015 classes has now been posted. There will be two online offering of Fundamentals of Interactive-Visuals (Oct. and Feb.) and one in-person (early June). Register early to claim your space! Private and in-house trainings also available. Plus biz development and personal growth offerings and Visual Coach Certification®.
I've also made a commitment to return to blog writing ... so see the blog for summaries and more pics on this training, plus tips from my coaching/mentoring practice with Process Professionals from across the English Speaking world, the latest research I'm doing (trauma, BodyTalk, society change) and obnoxious proud mama pics of JJ the wonder Yorkie.
Get out there and change the world all! We need dedicated Process Workers like you to do your thang! More shares in a few weeks.
Yours in SHIFTing IT,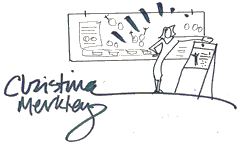 Christina Merkley,
The SHIFT-IT Coach
and Interactive-Visuals Mentor
VALUE, VALUE, VALUE ... WAS SO WORTH IT!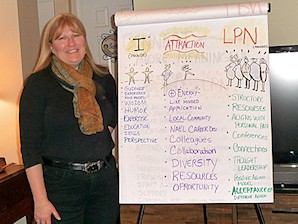 Eileen Caroscio
Coach & Presenter

"Value, Value, Value!!! Fundamentals of Interactive-Visuals (online) was SO WORTH IT! Christina's runs a top notch program --- from the materials coming to my house prior (was early bird sign up), to the live web classes, her generous Q&A after, the class video and audio recordings, guest videos, to the private 45-minute session included. Her assistant, Patricia, is on top of everything.
The cool thing was I put what I was learning into action right away in my own meetings and folks were delighted ... EVEN as I was in the learner role. Did I mention FUN? That too!
The on-line version of FIV was right for me, as I could slowly absorb and practice the techniques, receive feedback, and participate in the class forum - a real community. It was just like being there, with Christina and participants on webcam. I was happy to not have to travel. Our group developed friendships: giving encouragement and sharing experiences and resources. Many have stayed connected as we continue to integrate working visually into our work and lives."
Eileen Caroscio
Coach & Presenter,
Virginia, U.S.A.
www.PassageWaysCoaching.Net
P.S. I so enjoyed my experience that I'm now in Visual Coach Certification® - loving this dynamic cohort too!
SHIFT-IT SCHOOL: UPCOMING COURSES
BIZ BASICS FOR PROCESS PROFESSIONALS
Home Study Course
For Consultants, Trainers, Facilitators, Coaches, Counselors, Teachers, Content Experts, Scribes/Recorders, Artists, etc. )
Developing one's craft is only part of the puzzle in having a successful solopreneur practice or small business --- to understand and successfully implement solid business strategies is another. My Outer Work Model to build (or revamp) a process practice in the 50-300K range has only been shared with students in my longer-term masterminds. Now this much needed info is available in a condensed Home Study Course. Topics include: inspiration, identity & brand, structures & banking, offerings and proper sales funnel creation, sales & marketing (including social media), pricing and effective collection policies, tech and administrative support (team building), bookkeeping & accounting, and partnering and joint ventures. AND, the positive mindset and resilience that underscores it all. Everything you need to build your expertise into a successful solo practice or small business.
Coming Soon!
SHIFT-IT Online
7 Weeks Online: Sept. 20 - Nov.1, 2014
Video Webinars: Saturdays, 10-11:30 a.m. Pacific

Ready to get what you want?! My signature coaching group - gets you what you next want in your personal and/or professional life. You develop a crystal clear vision, unravel your resistance ... and rapidly SHIFT your world. Practical real-world strategic planning coupled with leading-edge energy alignment --- all in my innovative 'Visual Coaching' style. Join this supportive community with other like-minded SHIFTers from across the globe. The SHIFT-IT Home Retreat Kit® with 17 visual maps is included, plus handy Repeater Option for those joining us again!
Registration Now Open
Full Details and Online Registration
Note: Pre-requisite for Visual Coach Certification. FYI, Repeater Option available for those who have taken this program before and are ready for your next shift.
Fundamentals of Interactive-Visuals (On-Line Version)
9 Weeks Online: Oct 6 -Dec 10, 2014
Video Webinars: Mondays & Wednesdays, noon-1pm Pacific

Over 87% of your facilitation, coaching, training and consulting clients are visual thinkers - learn powerful visual skills to boost the effectiveness of how you work with them. This professional skills training (fully online) thoroughly covers the four main applications of working visually with groups and individuals so you can add these powerful tools to your own process toolkit: studio work (charts & videos), graphic recording, graphic facilitation and graphic coaching. This is the online version of my popular 3-day fundamentals training (no travel required).
Reserve Your Seat: 20 18 Spots Left:
Early Bird Before Sept. 8th
Full Details and Online Registration
Pre-requisite for Visual Coach Certification - only option of taking online this year (so if you don't want to travel for Certification 2014, be sure to register for this online version of FIV)
FYI, Repeater Option available for those who have taken this program before and want to refresh.
PRIVATE APPRENTICESHIPS & BIZ/LIFE MENTORING
Online and In-person Options
I have some 2014 availability for customized Private Trainings and Apprenticeships (you come to me, 1-2 days), In-house Trainings (I come to you, groups of 10 or more) and Biz/Life Mentoring Sessions (packs of 1-12 via private webinar). Excellent for keeners desiring one to one attention and rapid acceleration.
* Email [email protected] to book Exploratory Chat to discuss your goals and determine which package best for you.
FEATURED ARTICLE:
HE NEEDS TO GET IN THE ROOM
To Listen Or Download Mp3 Version of This Article, Click Here
I had an interesting conversation with a wanna be Graphic Recorder last week that I wanna share about ...

My flagship training program is FUNDAMENTALS OF INTERACTIVE-VISUALS. It teaches other Process Professionals (consultants, facilitators, trainers, managers, coaches, therapists, educators, budding scribes) how to effectively use visuals in their work with different kinds of groups and individuals.
I prefer "Interactive Visuals" as an umbrella term, as in my opinion there are four main applications of working visually in process work, and the most effective ones are where you use it very interactively with clients (not just off on the side doing your own thing):
Studio Work (pre-prepared posters, charts, murals, videos, etc).
Graphic Recording (live summary of high level talks & presentations)
Graphic Facilitation (live group process work using visuals interactively)
Graphic Coaching (live individual process work using visuals interactively)
* you can interchange 'graphic' with 'visual' too ... same thing!
* Note: for more info on the four main ways of working visually click here. Also, the Intro to Interactive-Visuals Video (90 minutes).
We offer this course online twice a year (9 weeks by webinar), and once in-person over 3 days (in beautiful Victoria, British Columbia, Canada).
Nice and Talented Guy Registers:
Anyway ... in the last online version of the course, I had a really nice (and talented) guy register who had been watching me for years on Facebook. He has a teaching background and is also a talented illustrator. He's been fascinated by Graphic Recording and Graphic Facilitation for awhile ... yearning to get into it. So he finally connected and registered for the course.
As part of the program I include a private 45-minute coaching session with me ... so I can have some private time with each participant and help connect the dots of the hefty volume of info I cover to that person's particular situation. I was just itching to get to the private call with him, as there were a lot of things I wanted to share.
I wanted to reiterate to him ...
Click Here to Continue Reading on Blog and See & Leave Comments
---
For the full SHIFT-IT e-Zine Archives: Click Here
For the full SHIFT-IT Audio Library (mp3): Click Here
©2014 Christina L. Merkley
WANT TO USE THIS ARTICLE IN YOUR E-ZINE OR WEB SITE?
You can, as long as you include this blurb and a functional link to my site:
Author's Bio: Christina Merkley, "The SHIFT-IT Coach" and creator of the SHIFT-IT System®, is a Visioning and Strategic Planning Expert specializing in Visual Thinking and Inner Alignment techniques. Based in charming Victoria, British Columbia, Canada, she works deeply with individuals, partners and conscious businesses to define and manifest what they truly want. And, trains other process professionals in her innovative ways of working. For more information visit: www.shift-it-coach.com and www.visualcoaches.com
EXPERIENCE SHIFT-IT COACHING NOW:
In the scheme of things, life is short. It's a shame not to live it in alignment with who you truly are. I have successfully SHIFTed to a life of authenticity, creativity and abundance that is aligned with who I truly am.
Let me assist you in doing the same via private mentorship. I specialize in individuals who need to get their 'special it' into the world (entrepreneurs, biz owners, team leaders, teachers, consultants, facilitators, trainers, coaches, therapists, visual practitioners, etc.).
I coach you to build/enhance your internal or external practice or small business (including identity/brand, biz basics, creation of effective offerings, necessary systems (tech and socio) and marketing & sales). As well as having a satisfying personal life of supportive family, friends and community. Stop splitting your energy - create a congruent life that truly works for you!
ADD "WORKING VISUALLY " TO YOUR OWN PROCESS TOOLKIT:
Are you a process professional with a creative bend? Are you intrigued with the visual way I work with my clients? I've trained hundreds of facilitators, consultants, trainers and now coaches, counselors, social workers, etc from around the globe. Learn fundamental visual skills that you can use in your own work with groups and individuals. Come join the visual tribe!
Christina Merkley
The SHIFT-IT Coach &
Interactive-Visuals Mentor

SHIFT-IT Coach, Inc. is a boutique training and coaching company specializing in visual process work for groups and individuals. Founded by Christina Merkley, pioneering Visual Facilitator and Coach, we work deeply with individuals, partners and conscious businesses to define and manifest what you really want. We also train Process Professionals from across the globe in our innovative ways of working. For more information visit www.shift-it-coach.com and www.visualcoaches.com.
IN THIS ISSUE:
>>Featured Article:
He Needs To Get In The Room
---
CONNECT WITH US:
---
BLOG ENTRIES:
Looking for more rich, SHIFT-IT content? Check out my blog for recent ramblings, resources and general interest features:
Day 2: Emphasis on Graphic Facilitation
We Declared Victory on Day One ...
Visual Coaches: Remember Proper Color Options
Calmed By White Buffalo Calf Woman
Why working for Nada Can be Smart
Click here to read the SHIFT-IT Coach blog.

---
EZINE ARCHIVES:
Browse past issues here.
Listen to the ezine here.


---
FEATURED PRODUCT:
The SHIFT-IT Home Retreat Kit®
---
Our Websites:
---
---