A NOTE FROM CHRISTINA:
Hi. Hope you are enjoying the final weeks of summer (or for those of you in the Southern Hemisphere getting ready for some!).
My team and I have been busy bees getting SHIFT-IT School refreshed for the fall and next year. I'm happy to report that most of the new 2016-2017 courses are now available for viewing and registration.

I say most because I will also eventually be adding a 6-Month Biz and Life Mastermind to the roster (running May - December 2017).

It's been 5 years since I offered one of these intensive, special Masterminds ... my guidance is saying it's time to call in another one.

So much has happened to me personally these years (more experiences, more skills, more awareness, more things I'd like to hold space for). And, the need is great given what's going on in our world at large.

Plus an awesome partnership is coming together with a really great colleague who brings a lot to the table. More on her later and the program in the months ahead!

Click Here to View New
2016/2017 Courses.

Online and In-Person Courses.
Home Study Kits. Private Mentoring.
| | |
| --- | --- |
| Laura and Xina On the Road | On another note, now that my admin tasks are complete, I can get away for some R&R and also R&D. My friend and energy work colleague Laura Leon and I have done a Thelma and Louise (minus the dramatic ending over the cliff hopefully!) ... driving the convertible down to Mount Shasta for the Secret Space Program conference aka Corey Goode and all. One of my adventures into 'messiness' this season, as per the article below. |
Its 'interesting times we live in' for sure nowadays. Each of us hold a piece in the puzzle in how to help our world shift to the next level. I wish you well in figuring out yours as it's all hands on deck now! See you in a few weeks.
Yours in SHIFTing IT,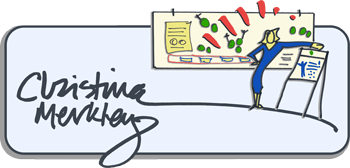 The SHIFT-IT Coach
& Process Skills Mentor


IN YOUR WORDS: TESTIMONIAL FROM DR. JUDE RATHBURN

I LOVED HEARING HOW THE SHIFT-IT STORY AND BRAND HAVE EVOLVED OVER TIME - A BEAUTIFUL EXAMPLE OF STRATEGIC
THINKING AT ITS BEST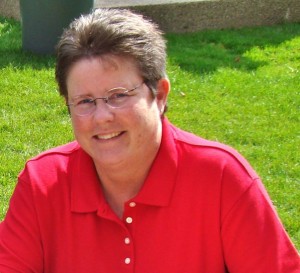 Jude A. Rathburn, Ph.D.
Wisconsin Teaching Scholar
and Senior Lecturer
"Extremely valuable - priceless. I appreciated the variety of skill, content and practice opportunities - including questions that were asked and answered during this training.
I was also very impressed with Christina's ability to create safe space, provide energetic support and accept each of us with a compassionate heart. Her openness to hearing and honoring the wisdom in the room, allowed all of us to be valued contributors.
I also liked hearing more about Christina's story, including the ups and downs and the lessons she has learned along the way. As a professor of business strategy, I loved hearing how the SHIFT-IT story and brand have evolved over time - a beautiful example of strategic thinking at its best."
Jude A. Rathburn, Ph.D.
Wisconsin Teaching Scholar and Senior Lecturer
Lubar School of Business, University of Wisconsin
Milwaukee, WI, U.S.A.
SHIFT-IT School: Classes, Products & Mentoring
For Beginners Or Repeaters:
FUNDAMENTALS OF WORKING VISUALLY®
Visual Skills for Process Work with Groups and Individuals
This professional skills training (fully online) thoroughly covers the four main ways of working visually: Studio Work, Graphic Recording, Graphic Facilitation and Graphic Coaching. Over 87% of your consulting, facilitation, training, teaching and coaching clients are Visual Thinkers - these powerful visual skills boost the effectiveness of how you work with groups and/or individuals. This is the online version of my popular fundamentals training (no travel required). Attracts folks from across the English-speaking world - your Visual Tribe! Fully recorded, if you miss classes or want to watch at a time more convenient for you.
Early-Bird Ends Sept. 7!
ONLINE VERSION VIA LIVE WEBINARS:
October 3 - December 14, 2016
Mondays & Wednesdays, noon-1pm Pacific
Full Details and Online Registration
Note: Pre-requisite for Visual Coach Certification.
For Professional and Personal Results:
New Course: Practical Energy Work
Boost Your Right-Brain Intelligence

Our modern world still operates on a left brain bias: analytical, mental and rational ... with serious consequences for individuals, groups and our planet-at-large. However our right brain is always there, albeit often underused and even denigrated. Learning to be 'whole brained' is a powerful advantage in life and work. Join me for this NEW online class to harness your right brain resources: emotions, subtle energy and intuition. Practical tools on energy management, law of attraction, trauma, brain wave mastery, problem-solving, etc. Guest experts. Plus community with other participants from across the globe.
Now Open For Registration
Oct. 29, 2016 - March 4, 2017
Live Webinars: Saturdays, 1-2:30 p.m. Pacific
Full Details and Online Registration
Note: No Prerequisite
For Visual Skills Grads
WORKING VISUALLY eCOMMUNITY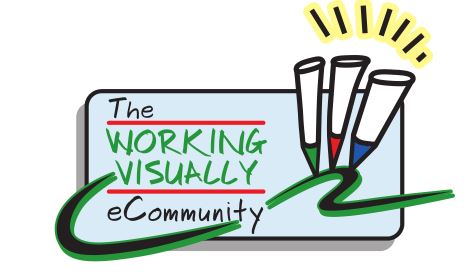 Are you a grad of one of my Visual Skills programs? If so, you qualify for access to our WORKING VISUALLY eCOMMUNITY for ongoing support. This community includes online forum filled with various topics related to working visually (media, announcements, skill development, technology, business development, inner work, etc.). Plus a monthly drop-in webinar and recording library. Dates for upcoming webinars: Sept. 12, Oct. 20, Nov 17 and Dec. 15. Webinar time is 11-12:30 Pacific, fully recorded.
Instant Access
HOME STUDY KITS
| | |
| --- | --- |
| | Can't travel? Want your info fast? Now you can access my quality instruction via three Home Study Kits. Choose from Fundamentals of Working Visually, SHIFT-IT Home Retreat Kit and Business Essentials for Process Professionals. |
FEATURED ARTICLE:
ADVENTURES IN 21st CENTURY MESSINESS
To Listen Or Download Mp3 Version of This Article, Click Here.
Running SHIFT-IT School and conducting my own Process Practice is hard work. Its work that I truly love and work I'm very appreciative of the opportunity to be able to do, but its hard work nonetheless. That takes a lot out of me on various levels so it's important I take time to replenish.
Thankfully there are two times in my year (December and August) where I can get some needed R&R (rest and relaxation) and where I can also get in some R&D (research and development) on topics that are my leading edge.
Right now, I'm very interested in how to more graciously handle 'messiness' ... especially on subjects that it seems that I (or most individuals) have no or very little control over.

Just how the heck do I (and we) physically, mentally, psychologically and spiritually deal with the big messiness of our current situation here in the 21st Century at this point in time?!
So below are my three adventures this month, while I have some time to putter, that are an attempt to create some headway for myself on this huge question ...
1. Books To Help Deal with the Mess:
As I wrote last issue, my August break gives me a chance to read (I collect books, knowing that eventually it will be the right time to read them). The books I shared last time from Selig, Silver and Singer all address various ways to deal with this messiness, or at least I had hoped they would.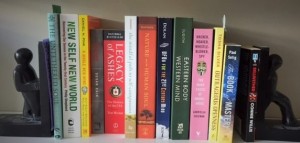 I have absolutely adored the Selig books (am in the middle of the 4th one) and marvel at how they dovetail into various metaphysical practices I have already studied. I was also charmed with the breezy yet illustrative stories within Silver's book, especially the frequent references to San Francisco (brought back memories of my years in that special city).
And while I enjoyed one of the Singer books (the memoire of his business life), I find myself resisting his other one. After I listened to several of his audio lectures I'm leery of his seeming 'just say yes to life' approach.
I understand at the spiritual level how it's futile to argue with what is. However, as a Process Professional I find it tough to release the need to protest perceived injustice and to not take action to try to make things better. That last Singer book is gonna sit on the shelf a while longer!
2. A Method to Process the Mess:
Back in grad school eons ago, I studied some of the deep psychology work of Arnold Mindell that existed at that time. Now, all these years later, I'm swinging back again as he and the many other practitioners now in the ProcessWork and WorldWork field have some very useful processes, tools and info to share on this subject of messiness.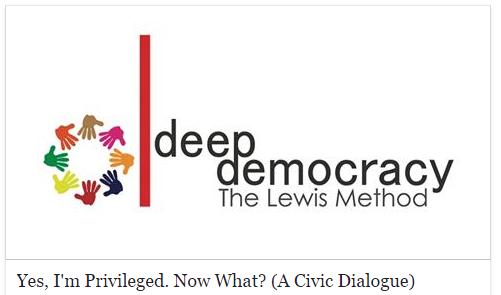 One of my visual students from about a decade ago, Aftab Erfan, is holding the Deep Democracy space both in Vancouver and abroad.  She came to Victoria last Saturday to host a Civic Dialogue on the topic of Privilege.
I jumped at the chance to attend ... to see her, see several friends, colleagues and clients who were also attending, and to experience the Deep Democracy methodology to deepen my own learning and awareness.
The short time allocated only allowed a brief taste of this intense work. What I took away was the importance (and gift) of hearing and speaking the tough perspectives embedded in these messy topics, as a step towards reconciliation. In some ways the Deep Democracy work reminded me of Voice Dialogue, Sub-Personality work as well as Primordial Polarity methods --- however done in a group rather than with just an individual.

If you want to learn more about the Deep Democracy approach here are a few ...
ARTICLE CONTINUED ON BLOG ... CLICK HERE TO VIEW
---
For the full SHIFT-IT e-Zine Archives: Click Here
For the full SHIFT-IT Audio Library (mp3): Click Here

Christina Merkley
The SHIFT-IT Coach &
Process Skills Mentor

SHIFT-IT Coach, Inc. is a boutique training and coaching company specializing in visual and energetic process work for groups and individuals. Founded by Christina Merkley, pioneering Visual Facilitator and Coach, she works deeply with individuals, partners and conscious businesses to define and manifest what you really want. Christina also trains Process Professionals from across the globe in her innovative ways of working. For more information visit www.shift-it-coach.com and www.visualcoaches.com.
IN THIS ISSUE:
>>Featured Article:
Adventures in 21st Century Messiness
---
CONNECT WITH US:
---
BLOG ENTRIES:
Looking for more rich, SHIFT-IT content? Check out my blog for recent ramblings, resources and general interest features:
Summer Reads: Selig, Singer And Silver
In Your Words: Florida I.T. Professional Finds Practical Use For Energy Work
International Forum of Visual Practitioners (IFVP): My Three Top Tips for Attending the Annual Conference
Karla Kadlec: Consciousness Consultant Follows Her Intuition To Our Graphic Facilitation Training
Bruce Hostetter: On Fundamentals Of Working Visually Workshop
Actually You ARE Accomplishing A LOT!
Hannah Sanford: New Visual Coach Grad From Maryland, U.S.A.
How I Did It And How You Can Too!
Melanie Zucker: New Certified Visual Coach Graduate From Germany
Sound Modalities to Aid Your SHIFT
Speech Pathologist Lisa Dymond Makes Good Use Of Working Visually
Click here to read The SHIFT-IT Blog.
---
EZINE ARCHIVES:
Browse past issues here.
Listen to the eZine here.
---
PRODUCTS:
---
Websites:
SHIFT-IT Coach, Inc
www.shift-it-coach.com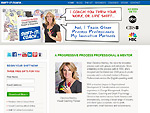 ---
---
Visual Facilitation
www.makemark.com