A NOTE FROM CHRISTINA:
I'm just about to get really busy, as the spring semester (my longest semester for SHIFT-IT School) is about to fully kick in ...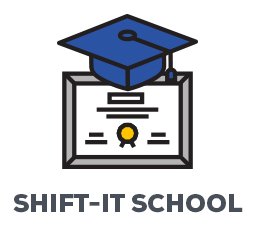 Classes Already in Play:
Practical Energy Work is completing from the fall, just a few more sessions left. Spring SHIFT-IT Online is up and running with 3 out of 7 webinars completed. Really wonderful cohorts with good folks from across the globe. With these classes running on the same day, my Saturdays have a special sacred feel that I cherish ... given the profound outer and inner work happening.
You all are doing great, keep going!
Classes Coming Up:
There are four other classes coming up this spring season. The online version for Fundamentals for Working Visually is just around the corner (come join us, we start Feb. 27th). The 2017 cohort of Visual Coach Certification kicks off on April 4th (apply now and get your pre-requisites done if you haven't already).
And, for those who want the special treat of training in-person (which I do only once a year) the public workshops in Victoria, British Columbia, Canada in June are filling up: Fundamentals of Working Visually (beginning level graphic facilitation) and Magic Marker Retreat (intermediate level graphic facilitation).
Canada's dollar remains low, so a great opportunity for Americans and other nationalities who have a stronger currency to get high quality training at a really good deal (check your currency against the Canadian dollar at www.xe.com).
Last Month's Mexican Retreat:
Knowing I had a busy season ahead of me, I participated in a New Year's Retreat in Akumal, Mexico to get myself physically, mentally, emotionally and spiritually ready for 2017 and beyond. This was extremely good timing, as it was the week before the U.S. inauguration. Boy was it an interesting experience to come out of that cocoon into the flurry of the larger world!

With Bridget Nielsen of Harmonious Earth

With Corey Goode, of Sphere
Being Alliance
The New Year's Retreat was held by Bridget and Kirk Neilson, the father/daughter team behind Harmonious Earth, and their respective partners. I chose to attend given Corey Goode of Sphere Being Alliance's announcement that he and his partner would be there ... feeling that important information, visioning and energy work would happen between all who heeded the call. I wasn't disappointed and am still integrating the multiple layers of this unique experience.
Bridget and I will be doing a webinar on High Vibrational Food amongst other things for the Practical Energy Work class.
| | |
| --- | --- |
| Painting in Paradise | Water Colors on the Lagoon |
Bridget, bless her heart, hauled art supplies and we were encouraged to paint postcards of the highlights from each day. Boy, did it do my soul good to paint in the warm breeze next to the beautiful lagoon with the supportive conversations swirling. Anytime I need to find the feeling place of 'peace, beauty and community' I'll be able to summon this memory, ahhhhhhh.
| | |
| --- | --- |
| View from Gaugain Villa, Akumal | Co-Painting Exercise with Millennial Bod |
| | |
| Circle Meditation at Tulum Ruins | The Humid Mayan Rivera Forests |
As a dedicated Process Professional, with all the heightened energies and emotional swirl going on in the larger world ... I'm working my various tools to keep myself in as grounded, balanced and calm a place as I can. For my own sake and so I can be of assistance to those I support.
I'm continuing to be fascinated by large and small processes that can help groups and individuals digest vast amounts of fast info and make clear decisions. These last weeks I'm being pulled to deep process work that helps us own our projections and also to the challenging work of forgiveness and truth and reconciliation. So, I've decided to share a few resources and examples to shine some light on what is possible. They make me curious and optimistic and I hope they will be of interest and help to you too.
Yours in SHIFTing IT,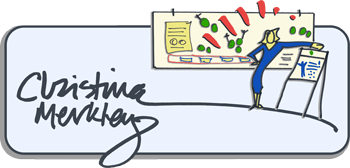 The SHIFT-IT Coach
& Process Skills Mentor
IN YOUR WORDS: CLIENT TESTIMONIAL
Organizational Development Consultant Melinda Collins Gives Our Graphic Facilitation Training a Thumbs Up.
A NEW WORLD OF TOOLS TO USE IN PRESENTING INFORMATION AND
FACILITATING PROCESSES HAS OPENED UP.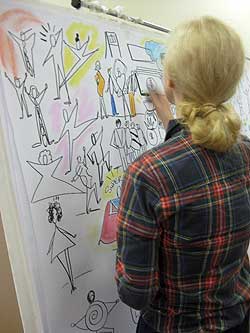 Melinda Collins
OD Consultant | Facilitator
"Fundamentals of Working Visually delivers both the basics of working visually as well as the larger context of expanding these skills into more complex process work.
Christina guided us through well paced material that she presented in an incremental and buildable way. Demonstrations were instrumental in learning. The sessions had a great mix of "how-to" complemented by opportunities to practice skills indivudally and as part of a team, as well as time to reflect and experience both coaching and being coached on next steps toward implementing this new skill set.
I appreciated Christina's modeling on creating and holding a container for facilitating whatever shows up in the room. Her sharing and caring for all was exemplary and enhanced our learning. She is a superb example! The people from all over the world were wonderful.
Christina makes working visually accessible to everyone."
Melinda Collins
Organizational Consultant & Facilitator
Milton, Massachusetts, U.S.A.
SHIFT-IT School: Classes, Products & Mentoring

For Beginners Or Repeaters:
FUNDAMENTALS OF WORKING VISUALLY®
Visual Skills for Process Work with Groups and Individuals
For Process Professionals who work with groups or individuals - managers, consultants, trainers, teachers, facilitators, therapists, coaches, scribes and others. Over 87% of your clients are Visual Thinkers so it only makes logical sense to work in ways that best reach them. This professional skills training thoroughly covers the four main ways of working visually: Studio Work, Graphic Recording, Graphic Facilitation and Graphic Coaching. Attracts participants from across the globe.
Three Options: online, in-person or via handy home study kit.
Just 20 8 Spots Left!
ONLINE VERSION VIA LIVE WEBINARS
9 Weeks Online: Feb. 27 - May. 10, 2017
Mondays & Wednesdays, noon-1pm Pacific
Full Details and Online Registration
---
Early Bird Pricing until Apr. 20th
Just 20 15 Spots Left!

IN-PERSON VERSION IN VICTORIA, CANADA
IN-PERSON: 3 Day Intensive: June 1-3, 2017
Beautiful Victoria, British Columbia, Canada
Full Details and Online Registration
---
Available At Any Time
HOME STUDY KIT VERSION
Learn at Your Own Pace From
Your Own Environment
Full Details and Online Registration

Note: Pre-requisite for Visual Coach Certification. FYI, Repeater Option available on Feb. class for those who have taken before and want to repeat as a guest (write us for coupon code).
For Process Professionals Who Work With Individuals:
2017 VISUAL COACH CERTIFICATION®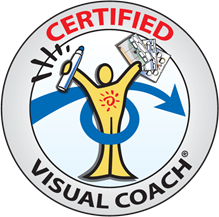 For coaches, counselors, therapists and others who work deeply with individuals. Add the power and innovation of Visual Coaching to your professional practice. Includes advanced Visual Coaching techniques, use of my SHIFT-IT System® with your clientele (17 visual maps), guidance in the 'template-izing' of your own intellectual property, plus marketing and biz development support.
Apply Now to Join 2017 Cohort
2017 VISUAL COACH CERTIFICATION
10-Weeks Online: April 4 - Dec. 31 2017
Tuesdays Noon-1:30 pm Pacific
Full Details and Application Process
Two Pre-requisites: SHIFT-IT Online and Fundamentals of Working Visually (or equivalent experience).
For Visual Keeners:
MAGIC MARKER RETREAT®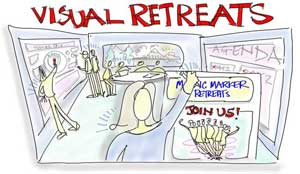 Getting your visual basics is half the equation - the other is competency and creation of a viable practice (whether you are internal or independent). This 2-day Boot Camp takes your visual practice to the next level: chock full of at-the-wall drills, project brainstorming (bring work for feedback and ideas), and identity/brand/financial coaching. Work your brain, your fingers and dissolve your resistance, all in deep community with Visual Practitioners.
Just 7 3 Spots Left
IN PERSON
2 Day Intensive: June 5-6, 2017
Victoria, British Columbia, Canada
Full Details and Online Registration
Note: Pre-requisite is Fundamentals of Working Visually (or equivalent experience). Each Magic Marker Retreat is a unique experience, come as many times as you like for continued inspiration and development!
For Visual Skills Grads
WORKING VISUALLY eCOMMUNITY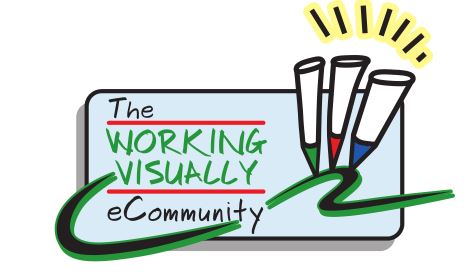 Are you a grad of one of my Visual Skills programs? If so, you qualify for access to our WORKING VISUALLY eCOMMUNITY for ongoing support. This community includes online forum filled with various topics related to working visually (media, announcements, skill development, technology, business development, inner work, etc.). Plus a monthly drop-in webinar and recording library.
Dates for upcoming webinars:
March 16, 11am pacific
April 20, 11am pacific
May 18, 11am pacific
June 15, 11am pacific
July 20, 11am pacific
August: off
Sept. 21, 11am pacific
Oct. 19, 11am pacific
Nov. 16, 11am pacific
Dec. 21, 11am pacific
FEATURED ARTICLE:
INSPIRING EXAMPLES OF DEEP INNER WORK
To Listen Or Download Mp3 Version of This Article, Click Here.
As a Process Professional who helps groups and individuals think, feel and make important decisions, I'm on a life-long learning path about how to efficiently move myself and my clients out of ruts that threaten to keep us stuck.
Some ruts are quite easy to get out of. They require a little bit of drawing out of the various angles and options until the obvious right action pops out. However other ruts are much more difficult, especially the entrenched ones that have layers of history to them and lots of heightened emotion.
Over the years of working with various groups and individuals hosting various kinds of events and processes, I've slowly but surely become more comfortable with heightened emotion and seemingly stuck situations.
And I've learned that breakthroughs often lie on the other side of heightened emotion, if we can only bear with discomfort long enough to get there.
I didn't start out this way in my process career. Frankly quite the opposite. I did everything in my power to avoid triggers and emotions in my client work (and in my life) and did my best to keep things in the seemingly rational and orderly territory of the 'left-brain'. Like that was somehow more mature and required than acknowledging and dealing with the emotions in the room. Boy, did I learn the opposite over time. It's in traversing the emotions, going right into them in a skilled way, where true maturity and necessity lie.
Lately I've been doing A LOT of deep process work, in my own personal inner work and with the clients I serve. From what I can see, from my vantage point of assisting fellow Process Professionals, a lot of us 'process types' are doing the same right now.
The heat is being turned up in our world, and many suppressed things are coming up into the light of day to be integrated for those courageous enough to do their inner work. We as individuals and as a collective are being called to put on our "big boy / big girl pants" and figure out how to more maturely deal with 'the others' in our life. Whether it's someone who has hurt us, or someone we have hurt, or our reactions to the archetypal characters playing out similar themes before us on the world stage.
It's not easy to deal with our individual and collective shadows. It requires a deep level of commitment and the development of skill, perspective and wisdom. Thankfully there are some human beings who are rising to the clarion call of our times and are doing their inner work. They are harbingers for all of us, we need more of this in our world!
A Few Examples of Mature Inner Work:
Hopefully in the future I'll be able to show some of the deep inner work my clients are doing in containers I hold for them ... but for now I can't, it's too confidential. However, below are a few examples of deep inner work that are public out on the web already that I like and appreciate.
They make me want to ...
ARTICLE CONTINUED ON BLOG ... CLICK HERE TO VIEW
---
For the full SHIFT-IT e-Zine Archives: Click Here
For the full SHIFT-IT Audio Library (mp3): Click Here

Christina Merkley
The SHIFT-IT Coach &
Process Skills Mentor


SHIFT-IT Coach, Inc. is a boutique training and coaching company specializing in visual and energetic process work for groups and individuals. Founded by Christina Merkley, pioneering Visual Facilitator and Coach, she works deeply with individuals, partners and conscious businesses to define and manifest what you really want. Christina also trains Process Professionals from across the globe in her innovative ways of working. For more information visit www.shift-it-coach.com and www.visualcoaches.com.
IN THIS ISSUE:
>>Featured Article:
Inspiring Examples of Deep Inner Work
---
CONNECT WITH US:
---
BLOG ENTRIES:
Looking for more rich, SHIFT-IT content? Check out my blog for recent ramblings, resources and general interest features:
Our Shift From Type 0 to Type 1 Civilization Status
Graphic Facilitation Training: Susana Guardado Attracts A Fast Return On Her Investment
Reflection Retreat with 4 Visual Maps
Communications Specialist Alisa Gordaneer Successfully Applies Her New Visual Skills In University Settings
Three Resources to Shift Post Election Angst
Our Practical Energy Work Course Reaps Results For D.C. Area Consultant Kathy Smith
Louisa Marziali Dramatically Improves Her Graphic Facilitation Skills
Adventures in 21st Century Messiness
Graphic Facilitation Training: Testimonial From Dr. Jude Rathburn
Click here to read The SHIFT-IT Blog.
---
EZINE ARCHIVES:
Browse past issues here.
Listen to the eZine here.
---
PRODUCTS:
---
Websites:
SHIFT-IT Coach, Inc
www.shift-it-coach.com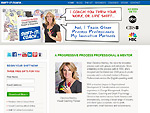 ---
---
Visual Facilitation
www.makemark.com